Gustav Lofgren (R.G.) Smith (Jan. 6 or June 1, 1870-Nov. 26 or 28, 1951) = Wilhelmina Josephina (Minnie) Smith (July 31, 1871-Apr. 18, 1965) in 1894
Children:
Wallace Paul Victor Smith (May 2, 1895-May 17 or 21, 1963) = Mildred Vestlund (?-Sept. 18, 1927) on Aug. 24, 1927
Wallace Paul Victor Smith (1895-1963) = Evelyn Butler(?-?)
Patricia May Smith (1941-) = Vincent Carter (1938-) in 1962
Kirk Wallace Carter (1963-)
Kraig Vincent Carter (1963-)
Patricia May Smith (1941-) = Glenn Johnson (1949-) in 1973
Jayme Johnson (1976-)
Lucia Alexis Smith (1949-) = Stephen Gainer (?-) in 1980
Jarred Gainer (1989-)
[Wallace was a professor of history at Fresno State University, and wrote several books on the history of the San Joaquin Valley. His first wife, Mildred, contracted polio on their honeymoon and died only 3 weeks after their marriage.]
Raymond Theodor Smith (Apr. 12, 1897-Dec. 6, 1980) = Edith Swenson (Jan. 31, 1904-?) in 1930
No children.
[Ray worked for the telephone company, and visited Minnesota several times. He even took home movies and had a wire recorder we could speak into!]
Mildred Pauline Smith (Mar. 14, 1900-1989) = Halfre Bohleen (1894-1983) in 1929
Gladys Ruth Bohleen (May 14, 1932-) = Robert Rose (1931-) in 1963
Coleen Rose (1958-) (from Robert's previous marriage)
Rhiannon (1978-)
Douglas Rose (1964-)
Alice Vilhelmina Smith (Nov. 15, 1901-1999)
Ethel Emilia Smith (Mar. 9, 1903-1995) = David Stanley Kent (1903-1940) in 1936
Jon Stanley Kent (Apr. 3, 1940-) = Patricia Ann McCarroll (1942-) in 1962
Robert David Kent (1963-)
Michael Edward Kent (1975-)
R.G. also worked with C.A. on the Wyoming spur line. Here is a professional photograph of C.A., R.G., and Fred, along with Mr. Westlund, on a handcar.
ON THE WYOMING (MINNESOTA) SPUR LINE, 1880s
FRONT ROW (L-R): MR. WESTLUND(?), C.A. LOFGREN.
BACK ROW: R.G. & FRED LOFGREN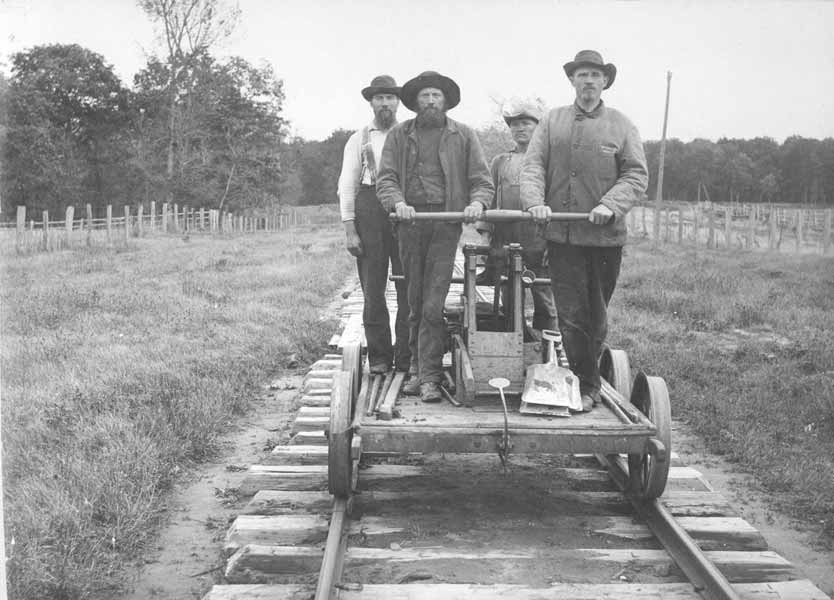 Minnie Smith was the daughter of a pioneer Swedish immigrant, John Anderson (1825-1888), who was born in Sörby, Linköping, Sweden, came to America in 1851, and cleared 160 acres on a peninsula on what is now North Center Lake of the Chisago Lakes. When he applied for citizenship in 1852, he changed his name to John Smith, because it sounded more exotic than Anderson. Minnie was worried that the name would die out, so, when they married, she convinced R.G. to change his name to R.G. Smith. Ironically, the daughter who stayed on the farm, Anna Smith, later married P.J. Anderson, who evidently didn't go for the take-your-wife's-name idea, so the land reverted to Anderson land. (I learned this quite by accident from Mark Anderson, a descendent of Anna Smith Anderson, who I met at a party given by mutual friends). After marriage, R.G. continued to work on the railroad for 12 years. They then moved to Kingsburg, California (1906), where they began growing grapes for raisins.
In 2007, Gladys Bohleen Rose and her husband, Bob, visited us in Minnesota. She added some information to the above account. There was considerable friction between R.G. and C.A. Lofgren. (Arvid Lofgren told of an example: when straightening rails, C.A., as section boss, decided when the rail was straight. R.G. would then sight down the rails to decide for himself if C.A. was right.) They all lived in the section house, with C.A.'s wife Augusta cooking for the crew. Augusta would open all mail addressed to Lofgren, no matter if it was addressed to C.A. or R.G. According to Gladys, that was the main reason for R.G. changing his name to Smith. So it wasn't to honor Minnie Smith after all. And here I've always thought, "at least there was one romantic in the family."
In addition to the friction with C.A., R.G. didn't like the cold wather in Minnesota, so when a former pastor at the Lindstrom church wrote back to say how wonderful it was in California, R.G. and Minnie decided to head for the promised land. They arrived in San Francisco only a week or two after the big earthquake, so they headed for Kingsburg, which already was a thriving Scandinavian community (even today, the water tower has been modified to look like a Swedish coffee pot).
In response to the first edition of this history, Jon Kent of Santa Barbara, California sent the following information about his relationship with R.G.:
My dad died in 1940, just 6 weeks before I was born, so mom moved back to the farm in Kingsburg, where I grew up with my grandparents, R.G. and Minnie, and my aunt Alice. Wallace also lived there for a time so we had a house full of teachers. I recall driving the team of horses, then later tractors. I still have the hand pump that we used for drinking water. Uncle Ray taught me so much and I followed in his footsteps in driving school buses and tour buses for the National Parks while in college. I have all of his old movies you mentioned. Pat and I met while students at San Jose State University. She was born in Juliaca, Peru, where her dad was a mining engineer. Both parents were from North Dakota, but her mom was born in Nova Scotia, and may be a distant relative of mine! (well, we are all related somehow, aren't we!). My father's side of the family came to Nova Scotia from Scotland and I have quite a family history of those wild folks--they were all peasants too!
R.G. SMITH & FAMILY, 1919 (?)
BACK ROW (L-R): ETHEL, WALLACE, RAY, ALICE
FRONT ROW: R.G., MILDRED, MINNIE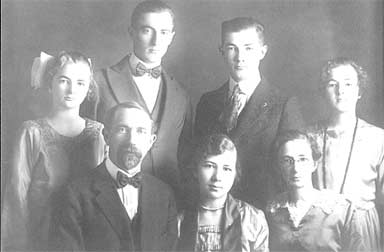 In 1951, R.G. was burning trash in his yard when his clothes caught fire, and he died from the burns. Five years later, Wallace wrote this detailed letter to Esther Lofgren Alvin, describing the agony of his death:
December 12, 1956
Dear Esther:
I feel like writing a few words to you tonight. I think about your mother and my father and the other persons who have passed out of our lives. You lost a husband a long time ago, and I buried my first wife. I often wonder what life is all about.
During the hurly-burly of our father's death I was so busy that I do not now know whether we sent a copy of the article about him which appeared in the Fresno Bee or not. I do remember that I sent an article to the Chisago County Press together with a request to Mr. Fred Feske of Lindstrom, a son-in-law of Eddie Andrews, and a great friend of my Dad, both Feske & Andrews, that he see that the article be printed. It was not! Just a short notice! I resented this, but Norelius, the editor, told Feske, that my Dad had been away from Lindstrom and Center City so long that no one would remember him.
Is not life strange. My Dad had coffee with my Mother, Ethel, and Jon at 10:30. Alice was sick with the influenza, and was in bed upstairs. It was a Saturday. Dad then said I am going out to burn some rubbish, a pile about the size of a small package, not more than an ordinary person could have carried away in his two hands. He had bought a new pair of pants and did not want to get them soiled, so he put on an old home-made apron which he had made of gunny-sacks. These sacks had been secured when he had ordered twine which is used to tie up the canes on the Thompson Seedless vines. In order to prevent the twine from rotting, these sacks are treated with an inflammable emulsion, the kind that does not flame up, but which burns stubbornly and will not go out easily. It was blowing slightly that day and as he turned the flames from the small fire caught hold of his apron without his knowing it and slowly burned up toward his waist from the rear. When he felt the heat, he hurriedly tried to untie the rope which he used to keep his apron in place, and perhaps due to nervousness, or because he had tied it too tightly he could not unloosen it. He had no knife to cut it with and the fire kept getting hotter, so he cried for help. He could not roll on the ground to put out the fire, as the ground was hard, and would not help much, and so he ran toward the tank-house where Ethel was washing clothes. Ethel had taken a course in first-aid, and knew what to do. She put wet wash down in front to prevent the fire reaching his genital organs, and over his face. These portions of his anatomy were saved. But she told me that the wet wash seemed unable to put out the fire forthwith on his trousers, which burned away entirely as did his underwear. He was not burned above the waist, but everything below his belt, excepting his genitals, appeared to me to look like raw beef-steak. Oil seemed to exude from all portions of his lower anatomy when I helped the nurse, Mrs. Arthur Davidson, change his bandages one morning about 2 A.M. I often went down at night, and stayed until the wee, small hours of the morning--I had to teach at Fresno during the day—but kept going down to Kingsburg at night. I was rather fatigued when it was all over--he lived for 12 days after the accident--but I did what I could. A young Army doctor, recently discharged from the Service, and just then located at Kingsburg, had the case at the Kingsburg hospital. One of my neighbors here at Fresno is a retired doctor, a specialist, and he went with me to see my Dad. He talked to the young doctor and assured me that he knew what he was doing, had had much experience with burned men in the war, and hence no one could do more than he was doing. So I could then tell my Mother that all was being done to save Dad. This made her feel better.
My Dad had said, when he went out after 10:30, that Mother and Ethel should come out at 11 o'clock, and they would see how nicely he had cleaned up things. They came out sooner than that, but not with the original hopes and promises. When my Mother heard the commotion, she ran out and turned the hose on. It never fails, the hose was not attached to the facet, and by the time she had time to hook it in place, Ethel had killed the fire with the wet wash. It had all been a matter of seconds. How easy it is to say that if I had been there with a knife to cut the belt that held up his apron, or if the hose had been handy to squirt water on the fire and apron, if-if-if-if-if he had not tried to burn the rubbish, but had carried it into the field, et cetera. Life is like that. I try to cheer my Mother by telling her that his days were numbered. Had he not lost his life in the fire, he would soon have passed away due to hardening of his arteries, the doctor said so, or he might have had an accident. He still drove his car, and he drove it too fast--supposing he had had an accident, and had inadvertently killed someone? The way it was, he died honorably, and all were sorry to hear about it.
One thing makes me happy, and I am sure you will appreciate this. He had always been religious, and I wondered how his religion would hold when he was hurt, in agony, and no doubt realizing that it was all over. The Army doctor is a young man of a religious background, a Mennonite, somewhat like the old-time Quakers, and he told me he had never met a patient who was more cheerful under pain. When I went to see my Dad he kidded me the first time; he said: "Wallie, the trouble with me is that I don't know how to wear skirts." He also made a wonderful impression on the nurses--young and old. One of the older nurses told him one morning: "You will soon be home, and then you can celebrate Christmas with your family." He answered: "You are all so nice to me, and I appreciate it, but I know better." He never let on to any of us—his family—but he apparently knew the end was near. I talked to him about 3 o'clock one morning--Mrs. Davidson was there--and I patted his shoulder and I said: "I hope you will get well." He looked at me but said nothing. Then I added: "I have always admired you, and been proud of you, and whatever happens, I want you to know that." He said very calmly: "Well, I always thought you did." There were no tears, or silly weeping. We talked man to man, and I told my Mother about it afterwards. She felt good about it, but sorry that she had had no last words with him. She was always taken to see him during the day, when he was dopey with drugs--I went there during the night when the drugs had worn off, and he was about to get his new dosage, so I saw him when he was at his best mentally.
Had he shown fear of death, anger, or crankiness, I would have grieved over it, but all concerned, nurses and they were all, with the exception of one nurse, good church members and Christians. The one nurse, a pretty girl, who had no faith, told me that if religion does that to a man I want to investigate it. "He dies the way I wish I could, when my time comes!"
One night he asked the elderly nurse on duty—a good Baptist—to sing Trygarre kan ingen vara, än Gud's lilla barna skara—and he tried hard to follow her. He could not sing, as you know, but she was visibly affected by it all. I do not spell Swedish well, so no doubt I misspelled some of the foregoing words.
Paul Lofgren, our cousin, came down to see Dad, and the latter looked happy when he saw him; it was in the PM and Dad was somewhat dopey from drugs, but he called Paul by name, and told me afterwards: "Did you know Paul is here; he is upstairs." There was no upstairs, but he did know Paul had come.
According to the mortician and the flower shops, it was the largest funeral in Kingsburg's history. It was raining hard--really pouring--and so the crowd which could not get into the mortuary really must have liked him to stay out in the rain. Ethel's fellow teachers from Fowler were there en masse; my fellow professors from Fresno sent flowers; the words spoken by the two clergymen were so unusual that one lady from Fresno--her husband is a State official and she was at one time a high school teacher--said she had never heard anything like the beautiful tributes paid him.
The memories are sweet; he lived his religion and when he was hurt unto death he never once whimpered. When he was unconscious he moaned terribly, but the doctor said this was due to internal agony which he did not allow to show when conscious. I think often of him when the holidays come, as he was buried on December 1st.
One thing I resented. I had talked my Mother into accepting the inevitable, when the nurses at the hospital, no doubt meaning well, began to tell her Dad would soon be home. We had Thanksgiving dinner at Raymond's and Mother had just come from the hospital. She said: "The nurses tell me Pa will be home for Christmas." Then everybody began to talk in that manner, and I finally burst out: "Will you please stop tormenting a poor wife and mother? I have had her in a frame of mind where she was willing to accept the inevitable, and now you are working up false hopes. It is cruel." I went down to the hospital later, and told the nurses to cut it out. They did.
"It is appointed unto all men once to die." This I know! I have seen friends and relatives die. I was not present when my Dad died. The old Baptist nurse maintains she suddenly heard the rustling of wings, and then a soft sigh, and my Dad was dead. I do not know about such, things. Perhaps there was such a rustling; perhaps she imagined it; but she did testify that no man could have talked more sweetly, confidently, or eagerly about his faith in God and the Hereafter than did my Dad when he was unconscious and truly revealing himself.
Death is not the worst that can come to us. One night I went to see a friend--I am glad he was not around--I would have frightened him--and I cried as hard as a little child who has stubbed his toe--from 2 until 4 o'clock in the morning--I then went home--and have not done so since. No death was then imminent. I buried a wife, a Dad, other friends--and I have shed no tears at those times--one can control oneself--so I don't think I am a baby, but sometimes the struggle get tough, and for once I lost my self-control. No doubt you have had those moments. Come and see us some time. I would like to visit you-all. I love you very much--Esther, Elmer, Paul--but who knows? Forgive this long-winded epistolary effusion.
Wallie