Remembering the Old Songs:
Black Bottom Blues/Deep Elem Blues
by Bob Waltz
(Originally published: Inside Bluegrass, November 1998)

Lyle Lofgren and I often take our cues from each other when writing these columns. But it's not often that we can say that we actually learned a song from each other. This is an exception.

I first heard the Deep Elem Blues on a record by Michael Cooney at least ten years ago. But it wasn't until I heard the Brandy Snifters' recording of Black Bottom Blues (the alternate title for the song) that I actually learned it.

This song is a curiosity in that it has been frequently recorded (once, I am told, by the Grateful Dead!), but rarely if ever appears in print. Probably the most recent recording is the MBOTMA disc commemorating Tom O'Neill and Minnegrassco; if you want a bluegrass recording, that's the way to go. But I play it as an Old-Time song, so that's how it is transcribed here.

As I mentioned, I know of no printed versions of the song from field collections. Norm Cohen, author of Long Steel Rail, generously supplied the following information about recorded versions.

The first recording was made by The Georgia Crackers, in 1927, under the title Georgia Black Bottom. This group included the Cofer Brothers, who were the source for the Brandy Snifters' recording.

The title Deep Elem Blues, which now seems to be more popular, comes from the Attlesey Brothers, who recorded Deep Elm Blues in 1933. By 1935 they were calling themselves the Shelton Brothers, and released no fewer than three sets of Deep Elem Blues. One of these was the primary source of the Michael Cooney version I first heard (he added some stanzas from Tom Paley).

"Black Bottom" is a sort of a generic place name; many cities, including Nashville, had a Black ghetto which was called by that name. "Deep Elem" is more specific, it refers to Elm Street in Dallas, which for a long time was the heart of that city's red light district. No doubt the latter title explains the song better; I don't know which is older. There are other songs which refer to both places; Joe Evans recorded Down in Black Bottom (which shares some lyrics with this piece) in 1931, while Take a Whiff on Me is one of several songs to refer to the Elm Street area.

I'm afraid the two versions I've heard have rather mixed in my head. I'm printing the Brandy Snifters text, but my tune is perhaps composite. I've printed the second line of the chorus twice; the Brandy Snifters sing it only once, but other versions repeat it, with variations of tune. You can, of course, freely substitute "Deep Elem" and "Black Bottom"; the two phrases scan identically.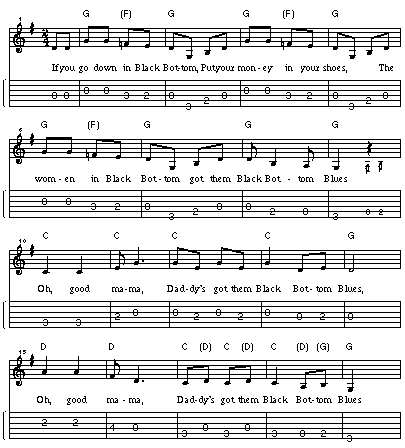 Complete Lyrics:
If you go down in Black Bottom,
Put your money in your shoes,
The women in Black Bottom
Got them Black Bottom Blues.
Oh, good mama, Your daddy's got them black bottom blues.
If you go down in Black Bottom
Just to have a little fun,
Have your sixteen dollars ready
When that police wagon comes.
Well, I had a good little woman
And I taken her to the fair,
She would have won the premium
But she had bad hair.
Well, I went down to Black Bottom
Just to get a little booze,
And now I'm on the chain gang
Wearing them brogan shoes.
If you've got a good little woman,
Better keep her by your side,
That old (band member name)
Take your baby and ride.
Additional verses from Michael Cooney:
If you go down to Deep Elem,
Take your money in your pants;
The women in Deep Elem
Never give the men a chance.
Oh, sweet mama, daddy's got the Deep Elem Blues.
Now I once knew a preacher,
Preached the Bible through and through,
He went down into Deep Elem,
Now his preaching days are through.
Now I once had a sweet gal,
Lord, she meant the world to me;
She went down into Deep Elem;
She ain't what she used to be.
Her papa's a policeman
And her mama walks the street;
Her papa met her mama
When they both were on the beat.
---
Return to the Remembering the Old Songs page.