Remembering The Old Songs:
BLACK IS THE COLOR OF MY TRUE LOVE'S HAIR (Laws K12)
by Lyle Lofgren
(Originally published: Inside Bluegrass, September, 2011)

(Note: If a date is listed after a song, an article about it was published in that issue of Inside Bluegrass.)

Before you turn the page: this is not the sentimental song of the same name that was sung (and maybe composed) by John Jacob Niles. This one, in my opinion, is a whole lot better.

It's certainly a lot rarer. I could find nothing on the internet about the song or its history — maybe Google was overwhelmed by all the Niles entries. There are lots of songs about the intersection of lovers and war, and they have all kinds of endings: lover returns unrecognized (Pretty Fair Miss in the Garden, as well as Bloody Waterloo, August 2005 ); woman follows lover to war and heals him (Jackaro); woman follows lover to war, finds him with another woman, and shoots him (Billy Taylor, March 2000); soldier, spurned by woman, is killed in battle (Pretty Peggy-O, December 2001); soldier leaves for battle, but only his horse returns (Bonnie George Campbell, February 2002); Soldier returns wounded, but woman has died (Goodbye Mary Dear, March 2008); and two soldiers both die, leaving lover and mother not knowing what happened (The Two Soldiers, June 1997).

But this song is none of those, and there's no indication even what war was being fought (I could find no Ledford Junction on either Google or MapQuest). Certain characteristics of it seem old, such as the repetition of lines 3 and 4 (using the same melody as those lines) at the last verse. The only vaguely related song I know is The Butcher Boy, June 2005, and that's mainly because the final verse is the same*.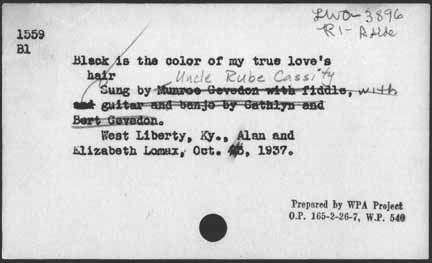 In addition to the mystery of the song's origin, there was, for a long time, confusion as to who sang it. We ordered it from the Library of Congress because it was listed as being sung by Munroe Gevedon, who sang The Two Soldiers (see above). Many years later, it turned out that, due to a clerical error, it should have been attributed to Uncle Rube Cassity, of West Liberty, KY, who recorded it on the same day as Gevedon's Two Soldiers. The corrected library card is posted on the internet (see photo).

The original was sung unaccompanied, and it sounds best to me that way. As far as I can make out, the melody is in Mixolydian mode. I transcribed it in G-mixolydian, although it's a bit low, because the notation is simpler. The peculiar note in the fourth line, marked #*, is A sharp (or B flat) made a little sharper (by stretching the guitar string when fretting, as in the blues). I have no idea what chord might go with that note — another reason to sing it unaccompanied.
[CLICK HERE FOR SHEET MUSIC (pdf file)]
Complete Lyrics:
Black is the color of my true love's hair,
Cheeks are like the lily fair.
O, when he returns, it'll give me joy,
For none will I have but my sweet soldier boy.
"O captain, O captain, tell me true,
Does my sweetheart dwell with you?
O, tell me quick, it'll give me joy,
For none will I have but my sweet soldier boy."
"O, no, my little miss, O he's not here,
For he was killed in a battle, my dear.
At the head of Ledford Junction, we passed by,
O, there I let your true love lie."
She got a pretty chair to sit upon,
Pen and ink to write it down;
At the head of every line, she dropped a tear;
At the head of every verse, says, "Oh, my dear."
"Go dig my grave both wide and deep,
Place a marble stone at my head and feet,
And on my breast a turtle dove,
To show to the world that I died for love.
And on my breast a turtle dove,
To show to the world that I died for love."
---
* Editor's Note by Bob Waltz: It's actually a much-modified version of The Sailor Boy (Laws K12), which is very widely distributed, but this one is strongly localized and has swapped out a lot of words.
---
Return to the Remembering the Old Songs page.