Remembering The Old Songs:
A GAY SPANISH MAID (Laws K16)
By Lyle Lofgren
(Originally published: Inside Bluegrass, September 2001)

If you find a song where the words are almost identical over a wide geographical area, you can be pretty sure something special has happened to short-circuit the natural oral transmission process, which includes recomposing half-remembered words. I would look for a hit record (The Wreck of the Old 97), or a ridiculously simple story and tune (Babes in the Woods). Itinerant singers sold broadsides (called "ballots") with the words to their hit songs. Broadside sources can sometimes be recognized by internal evidence. In The Newmarket Wreck,1 for example, one of the lines is:

...you'll see a picture of the wreck, just over on the back. (i.e., on the back of the broadside sheet.)

When new land was readily available, people moved around a lot,2 but the closing of the U.S. frontier in the late 19th century ended nomadic life. Stability and prosperity encouraged a lot of families to buy pianos or pump-organs. This, in turn, resulted in the publication of books of "Heart Songs" (later called Parlor Songs), composed ballads with heart-wrenching words and melodies that the middle class could sobbingly sing while gathered around the family noveau-riche symbol. In Appalachia, you could send to Sears Roebuck for a guitar that could be mailed up a mountain, and figure out how to convert the book of One Hundred One Favorite Heart Songs into guitar chords.

I haven't run across it in old parlor-song collections, but I'll bet that, in spite of its high quality, A Gay Spanish Maid was one such composed Heart Song. It has been collected in Missouri, West Virginia, Labrador, and Nova Scotia. The words from these geographically diverse regions are almost exactly identical. The Brandy Snifters learned this song from a recording of an unaccompanied Nova Scotia singer.3 It cried out for stringband treatment, and we dutifully complied. This spring (2001), at the Lanesboro MN Bluff Country Gathering, Melvin Wine, that fine nonagenarian West Virginia fiddler, played hundreds of tunes. One of them was this one. He could only remember the first verse, but both the tune and words were identical to the Nova Scotia version. "QED,4" I thought, remembering my high school geometry class.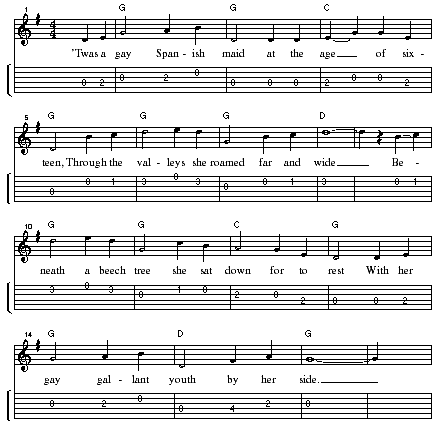 Complete lyrics:
'Twas a gay Spanish maid, at the age of sixteen,
Through the valleys she roamed far and wide;
Beneath a Beech tree she sat down for to rest,
With her gay gallant youth by her side.
"My ship sails tomorrow, my darling," he cried,
"And together we'll ramble no more;
So tonight when your parents retire to rest,
Will you meet me tonight, love, on shore."
That night when her parents retired to rest,
Lovely Annie stepped out the hall door.
With her hat in her hand, she ran down to the strand
And sat down on a rock by the shore.
The moon was just rising from over the deep
Where the sea and the sky seemed to meet,
When a loud murmuring wave it came over the sea
And broke on the shore at her feet.
Her hands soft and white she pressed to her heart
When he told her how long he would stay.
"God bless you, my dear, and your parents at home,
When from you I am far, far away."
Her hands soft and white she pressed to her heart
And her sorrow no mortal can tell.
He kissed her again as he stood on the beach
And bade her a loving farewell.
That night it arose a terrible storm,
And the good ship went down in the waves;
I swam to a plank and escaped from the wreck,
While the rest met a watery grave.
He returned to his love that he left on the shore,
How she thought of her boy in the storm;
She died like a rose that is called by the frost
And she's left me in sorrow to mourn.
---
Footnotes:
1. Recorded by Mr. & Mrs. J.W. Baker (relatives of the famous Carter Family). Re-released on Country Music Foundation CMF 011, The Bristol Sessions.
2. See, for example, the Laura Ingalls Wilder books.
3. Edmund Henneberry, on Folk Music from Nova Scotia collected by Helen Creighton (1899-1989). Smithsonian-Folkways FM 4006.
4. Quod Erat Demonstratum, "that which was to be demonstrated." Portions of this phrase are popular in crossword puzzles.
---
Return to the Remembering the Old Songs page.