Remembering The Old Songs:
KITTY ALONE
by Bob Waltz
(Originally published: Inside Bluegrass, June 2001)

Last month, Lyle twitted me a little about doing a song that wasn't particularly old. It set me thinking. Here I have this wonderful Ballad Index, with dates; OK, so what is the oldest datable song in the Appalachian tradition?

Astonishingly enough, the answer is Frog Went A-Courting, found in Wedderburn's Complaynt of Scotland way back in 1549. But you all know that one. Next is The Romish Lady, from 1586 -- but / don't know that one. From 1594 comes When Jones's Ale Was New, but again, I don't have a good version. A song Lyle did a few months back, Babes in the Woods, seems to date to 1595. Then comes Martin Said To His Man, published in Deuteromelia in 1609 and perhaps entered in the Stationer's Register in 1588.

This one I know, though it's gone through a lot of changes over the centuries. I fear that I contribute to them, too. The version I know best is called Kitty Alone, and I have two recordings of it on LP -- and I can't play either one, because my turntable is still in the process of being reconfigured after my move. (Yes, I will get it working again!)

The first text I have is from Chappell, Popular Music of the Olden Time; his text seems to be from Deuteromelia:

Martin said to his man,
fie, man, fie,
O Martin said to his man,
who's the foole now?
Martin said to his man,
Fill thou the cup and I the can
Thou hast well drunken, man
Who's the foole now?

Which may not sound much like this song, but consider the final verse:

I see a mouse catch the cat,
And see the cheese to eat the rat.

Here we see clearly the sort of nonsense which will evolve into Kitty Alone (or Johnny Fool, as Vance Randolph calls it, or Hurrah, Lie, or Who's the Foo Now?). The form may look different but you can't separate them; there is continuity of words from Martin to Kitty. And Lyle Lofgren points out that there are still versions of the song usually found under the title Foobah Woobah John or the like, which retain the drinking theme.

But that still leaves me the problem of finding a text. The only LP I have with a lyric sheet admits that the singer (Howie Mitchell) didn't know the words He had a first verse, and took the rest from floating materials. So I am going by memory, which I have corrected against verses from Vance Randolph's Ozark Folksongs and Lomax's Folk Songs of North America. But there is plenty of room for additional folk process here; you can add any nonsense verse which comes to mind.

I must admit that I'm not sure about even the chorus lyrics; what I remember makes nonsense, and so do the words of that Mitchell recording (though it's different nonsense), so I tried to rationalize them into something sensible (I'm not doing this on purpose, honest I'm not -- I don't think my source records made any sense.)

The transcription is a bit of a mess as usual, with two words per note in some cases. But it won't give you any trouble if you know the song. It's very easy to sing.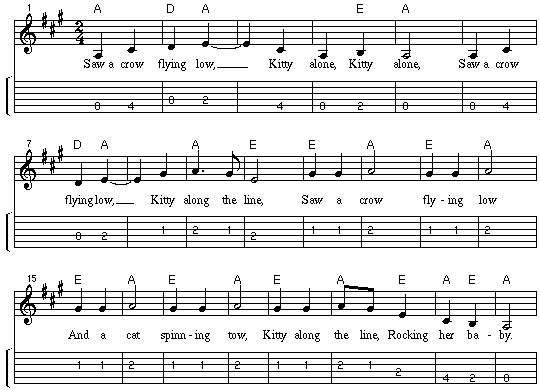 Complete lyrics:
Saw a crow flying low,
Kitty alone, Kitty alone,
Saw a crow flying low,
Kitty along the line.
Saw a crow flying low
And a cat spinning tow,
Kitty along the line
Rocking her baby.
Saw a louse chase a mouse,
Kitty alone, Kitty alone,
Saw a louse chase a mouse,
Kitty along the line.
Saw a louse chase a mouse,
From the kitchen to the house
Kitty along the line
Rocking her baby.
Similarly:
Saw a mule teachin' school
To the bullfrogs in the pool.
Saw a flea heave a tree
In the middle of the sea.
Saw a rat catch a cat
Can you tell a lie like that?
---
Note by Lyle, 2005: Since this article was written, Bob has put on the web a reprint of a book that contains another old version of this song. That song is titled The Man in the Moon, and it's number XIV, p. 51, in Kinloch's Ballad Book (1827). See www.csufresno.edu/folklore/reprints/KinlochBalladBook.html.
---
Return to the Remembering the Old Songs page.