Remembering the Old Songs:
Logan County Jail (Laws E17)
by Bob Waltz
(Originally published: Inside Bluegrass, October 2001)

Ballad people generally don't care much for American songs. They say -- correctly, in my opinion -- that the British ballads are much better songs. The poetry is better, and the emotions are truer and deeper. I'm not sure why this is, but if you compare, say, The Twa Brothers with Young Companions, you can see the difference.

The flip side of the coin is, the American ballads tend to be more stable. Most collected versions are similar in form, and keep most of the original lyrics.

So, of course, we're going to talk this month about a song which breaks all those rules.

This is a song which exists in many, many versions, and they show wide variation. I don't know how many recordings of this song I have on LP, but I have two recordings on CD just by local artists: Bob Bovee and Gail Heil recorded it as The Sporting Cowboy, and the Brandy Snifters recorded it as Seven Long Years in Prison. These two versions (Bob and Gail's from Watts and Wilson, or the Brandy Snifters' from Claude Grant) all by themselves go far to illustrate the degree of variation in the song: The Brandy Snifters version (which I include here mostly because they printed a lyric sheet and Bob and Gail didn't) is in three, and refers to "Logan County Jail" (apparently, if Malcolm Laws is to be believed, the most common title), while Bob and Gail's version is in two and sends the prisoner off to Dallas (the #2 name for the prison site).

Other versions can be heavily localized. The Digital Tradition has a Wisconsin version where it's the Ramsey County Jail; apparently this is one of the few traditional songs to be localized to our area. Unfortunately, that text is in very sorry shape, hauling in material from other songs while losing the key features of this one. That sort of encroachment seems to be common in versions of this song -- as a prison song, it picks up bits of other prison songs. The results frequently aren't very coherent.

On the other hand, the versions are usually very enjoyable. Both the Sporting Cowboy version and the Seven Long Years version have fine tunes, and I suggest learning both.

My feeling is that the tune family in 4/4 is original; if you look at the text below, it scans just fine in two-syllable feet; it's been fitted to a tune in three-syllable feet only by doubling the time on the stressed syllables. (Observe how the melody is a regular alternation of half and quarter notes.)

I don't know where Claude Grant's text is from (he himself came from East Tennessee near the Carolina/Virginia border), but his text looks a lot like the West Virginia versions in Cox.

It's surprisingly hard for me to do this song exactly the way the Brandy Snifters recorded it. All those other versions are pretty well mixed up in my head. If I were singing it, I'd doubtless produce something a bit different from the text below. But this is the text they printed, apart from any typos I've managed to make.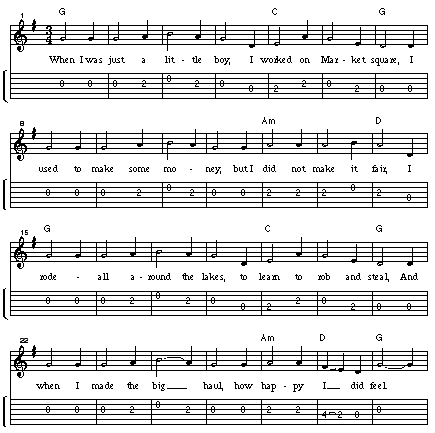 Complete Lyrics:
When I was just a little boy,
I worked on Market Square;
I used to make some money,
But I did not make it fair.
I rode all around the lakes
To learn to rob and steal,
And when I would make a big draw,
How happy I did feel.
But I woke up broken-hearted
in the Logan County jail;
I had no friends around me,
No one to go my bail.
Down come the jailer,
about ten o 'clock,
With the keys all in his hands,
he bumped up against the lock.
"Cheer you up, my prisoner,"
I thought I heard him say;
"You 're bound for the penitentiary,
for seven long years to stay."
Down come my true love,
with ten dollars in her hand,
Said, "Oh, my dearest darling,
I've done all I can."
"The jury set the sentence,
the judge said you must go
Away down to Moundsville
for seven long years or more;
But pray God to be with you
wherever you may go,
And the Devil snatch the jury
for sending you below.
---
Return to the Remembering the Old Songs page.