Remembering the Old Songs:
NEW PRISONER'S SONG
by Lyle Lofgren
(Originally published: Inside Bluegrass, September 2005)

We've written before about the popularity of outlaw and prison songs among the country people of the south, so I won't cover that subject again. Instead, here's the story behind the first gramophonic mega-hit and a song that had to be renamed because of it.

One of the first of the country musicians to be recorded was Virginia singer Henry Whitter, who sang The Wreck of The Southern Old 97 for Okeh in 1923. It sold moderately well, so Edison Records decided to cover it. They chose Marion Slaughter (1883-1948), an opera singer with an urge to become a pop star, to sing it, because he could imitate a southern accent. He became Vernon Dalhart. The cylinder recording, combining a hillbilly twang with a lot of ersatz emotion, sold well in the north as well, so Dalhart recorded the same song for Victor on a 78 RPM disc. He now had a problem that didn't occur with the one-sided cylinder: he needed a song for the flip side. He found The Prisoner's Song, which had been knocking around in Southern rural tradition for at least 30 years. Some similar words were in a composed British song, so it may have traveled to America via the printed page. It was being sung to the tune of an American sentimental song, Meet Me In The Moonlight. That song had nothing to do with prisons, but in addition to a tune, it contributed some imagery in the form of ships on the ocean and, of course, moonlight. Dalhart had the foresight to copyright the stolen words, including the famous:

If I had the wings of an angel,
Over these prison walls I would fly;
I'd fly straight to the arms of my darling,
And there I'd be willing to die.

The record sold beyond anyone's imagining, and Dalhart re-recorded it numerous times for other labels, using different pseudonyms (during his career, he recorded under at least 135 different names). No one knows how many copies of The Prisoner's Song were sold, but estimates run as high as 50 million.

Meanwhile, there were other prisoner laments being sung in the mountains, with different tunes and words. Moran "Dock" Boggs (1898-1971), of Norton, VA, learned one from an older sister. It's usually called Seven Long Years in Prison (there are also other songs with that title). Dock was a coal miner who got a glimpse of a new life in 1927 when he auditioned as a singer and banjoist and went to New York to record 8 sides for Brunswick Records. One of them was this song. I don't know Dock's name for it, but Brunswick, trying to siphon off some of Dalhart's success, released it as The New Prisoner's Song. He had a brief period of fame around home, but his musical career went nowhere, and Dock had to go back to mining until he was rediscovered and brought around on the college folk music circuit by Mike Seeger in the 1960s. All of Dock's original recordings are re-released on CD (Revenant 205) and his 1960s recordings are available from Smithsonian-Folkways.

Dock's version has only two verses, with banjo filling out the required 3 minutes. I'm not that good an instrumentalist, so I wrote a third verse that tries to stay within the spirit of the song. I suppose that makes this the New New Prisoner's Song. My verse is bracketed so you can omit it if you can't tolerate tampering with tradition. It's OK to hum a verse instead.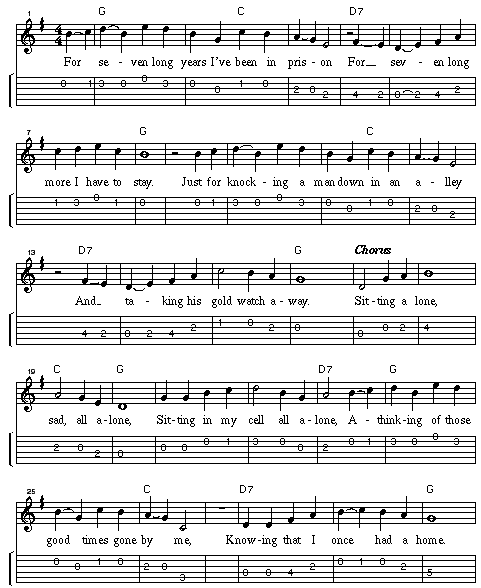 Complete Text:
CHORUS:
Sitting alone, sad, all alone,
Sitting in my cell all alone,
Just thinking of those good times gone by me,
Knowing that I once had a home.
1. For seven long years I've been in prison,
For seven long more I have to stay;
Just for knocking a man down in an alley,
And taking his gold watch away.
CHO.
2. I once did have a sister and a brother,
I wonder if they ever think of me?
I once did have a father and a mother
Who lived in a cottage by the sea.
CHO.
[3. I'm thinking tonight about my sweetheart,
She said she'd wait until they set me free;
She said that she'd be true to me forever;
I wonder why she doesn't write to me.]
CHO.
---
Return to the Remembering the Old Songs page.