Remembering the Old Songs:
Prison Cell
by Lyle Lofgren
(Originally published: Inside Bluegrass, April 1999)

I have a few more things to say about prisoner's songs. Merle Haggard, for example, had a C&W hit with this song about a loser, an exaggeration of his teenage turmoil:

"I turned twenty-one in prison, doing life without parole,
No-one could steer me right, but Mama tried, Mama tried,
Mama tried to raise me better but her pleadings I denied,
And that leaves only me to blame, 'cause Mama tried."

Merle was mining the richest ore in traditional music. I don't know if anyone has collected a list of different songs allegedly composed by prisoners, but it would run into the several hundreds, about evenly divided between those who do and do not deserve their punishment. Add another hundred or so third person prisoner's songs, and you're talking about a significant genre. These songs are not the same as those about the heroic outlaw, the Jesse James or Robin Hood. The popularity of the outlaw hero who redistributes wealth is easy to understand as escapist fantasy for a hard-worked, underpaid populace such as lived in the rural South. If the Outlaw is a winner, the Prisoner is a loser. Whether he's facing the gallows, or ninety-nine years, or a mere thirty days, he is rueing his time. Folklore says that many doomed prisoners fiddled self-composed tunes just before being hung. Romantics would like to believe that prisoners authored their own ballads. With a few notable exceptions, such as Haggard or Leadbelly, that's not likely. Even if the first person songs were really self-composed, they survive the composer, sung by generations who have not yet been jailed. The U.S. has traditionally imprisoned a significant portion of its poor and immigrants, but has actively tried to keep the rest of us from sympathizing with the prisoners. The prison song genre counters the official monolithic view with a bewildering number of stories, particularly as to the cause of the narrator's downfall. Some blame traitorous women or bad companions or themselves. Some nobly take the rap for another, while yet others don't seem to even understand what happened.

Prison Cell is my choice for one more example of the Prisoner Genre, mainly because it's unlikely you've heard it before. It's another unique song by the Gant Family, recorded in Austin, Texas by John and Alan Lomax in 1934 (Library of Congress Archive of Folk Song 71A2). The tune and timing are easy, it has a singalong chorus, and the narrator has both fallen in with bad companions and is innocent. To my mind, that makes it close to an ideal song.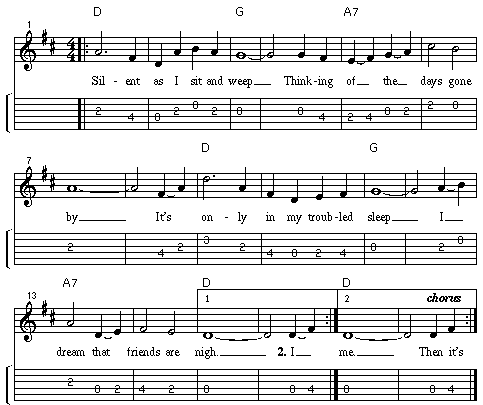 Complete Lyrics:
Silent as I sit and weep,
Thinking of the days gone by,
It's often in my troubled sleep,
I dream that friends are nigh.
I dream that I'm with them once more,
And all seems bright and gay,
But alas, alas it is not true,
There's no such joy for me.
Chorus:
Then it's goodbye, mother, fare thee well,
No longer can I comfort thee;
And while I'm in my prison cell,
O God, remember me.
I declined a mother's good advice,
Bad company did I employ;
They oft declared it was no use
To mind what the old folks say.
Chorus
'Twas well that my poor father died,
For I'm sure he's in a happier place
Than living in this cruel world
To see his son's disgrace.
I know that he's in heaven above
And can look down and see
That I am free from the crime accused
And free from forgery.
Chorus
---
Return to the Remembering the Old Songs page.