Remembering The Old Songs:
RICHMOND IS A HARD ROAD TO TRAVEL
by Bob Waltz
(Originally published: Inside Bluegrass, October 2004)

Last month, Lyle gave us "Jordan Is a Hard Road to Travel," and noted how it had spawned many local versions. This month, I thought we'd look at one of those knock-offs, to demonstrate how the folk process sometimes ends up being accelerated.

This is, of course, the Civil War version, detailing the massive number of failed attempts to take Richmond in the years of 1861 and 1862. I learned this version off a National Geographic recording of Civil War songs, though I think they shortened it by several verses. The New Lost City Ramblers recorded it, but I haven't heard that record.

The tune differs a little from Lyle's, but basically is the same, with the second half of the verse repeating the tune of the first.

At the time, I think this must have been a truly hilarious song. It's still funny now to those who know Civil War history. "Pope," in the second verse, is John Pope, the loser of the second battle of Bull Run, who had declared that he would have his headquarters in the saddle, to which the rebels replied that he had his headquarters where his hindquarters ought to be. Stonewall Jackson cut his supply line, and Lee then crushed him. The amazing thing is that Ambrose Burnside, the last figure in the song, was worse; he lost at Fredericksburg just as disastrously as the song implies. All this followed McDowell's and McClellan's campaigns to Richmond (mentioned in the missing verses). It was quite a list.

My sources don't indicate who wrote this song.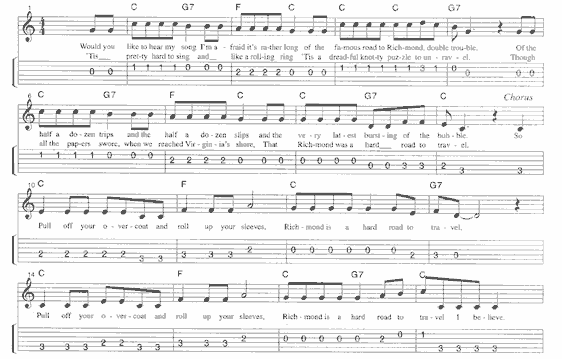 Complete Lyrics:
Would you like to hear my song? I'm afraid it's rather long
Of the famous "Road to Richmond" double trouble,
Of the half a dozen trips and half a dozen slips
And the very latest bursting of the bubble.
'Tis pretty hard to sing and like a rolling ring
'Tis a dreadful knotty puzzle to unravel.
Though all the papers swore, when we reached Virginia's shore,
That Richmond was a hard road to travel.
CHORUS:
So pull off your overcoat and roll up your sleeves,
Richmond is a hard road to travel.
Pull off your overcoat and roll up your sleeves,
Richmond is a hard road to travel, I believe.
Then said Lincoln unto Pope, "You can make the trip, I hope
And save the universal Yankee nation,
To make sure of no defeat, I'll leave no lines of retreat,
And issue a famous proclamation."
But that same dreaded Jackson, this fellow laid his whacks on
And made him, by compulsion, a seceder,
And Pope took rapid flight in the middle of the night,
'Twas his very last appearance as a leader.
Last of all the Burnside, with his pontoon bridges, tried
A road no one had thought of before him.
With two hundred thousand men for the Rebel slaughterpen
And the blessed Union flag waving o 'er him.
He met a fire like hell, of canister and shell,
That mowed down his men with great slaughter,
'Twoas a shocking sight to view, that second Waterloo,
And the river ran more blood than water.
We are very much perplexed to know who is the next
To command the new Richmond expedition,
For the Capital must blaze, and that in ninety days,
And Jeff and his men be sent to perdition.
And when we take the cursed town, we will surely burn it down,
And plunder and hang up each cursed Rebel.
For the contraband was right when he told us they would fight,
"Those rebels, they would fight like the devil!"
---
Return to the Remembering the Old Songs page.