Remembering the Old Songs:
"The Rocky Banks of the Buffalo" [Child #14]
by Bob Waltz
(Originally published: Inside Bluegrass, September 1999)

Last month Lyle gave us an example of a song that originated in Britain and went through a remake in America. So this month we're going to go all-out. I don't think I've ever encountered a song so thoroughly remade as this one....

The ancestor of this is a thing that Child called Babylon, or The Bonnie Banks o Fordie; it was #14 in The English and Scottish Popular Ballads. In it, three sisters meet an outlaw in the woods. As here, he threatens to kill them if they will not marry him. After knocking off two of them, he threatens the third, but she is not afraid. She has a brother, Baby Lon, in these woods, who will protect her. The outlaw, realizing that he is her brother and has just slain his own sisters, kills himself.

Nice, British-Ballad sort of a plot, eh?

On this side of the water, the song is usually known by titles such as The Bonny Bonny Banks of the Virgie-O, and the story is much as above, except that some of the details (such as the hint of incest) tend to fade. The result is a rather dirge-like piece that never really became very popular. (Bronson knew only eight versions of the ballad, not all American.)

Then something happened to the song. I don't know what it was, but this version (from the Ozarks by way of Wisconsin) wound up with a completely different ending. It's clearly the same song -- Bronson's #8 version has many of the same lyrics (except that the river is the "Bernio") and scans almost identically, and several other American texts are also fairly similar. But the ending here is much more upbeat -- at least if you're the women.

Unlike most ballads -- indeed, unlike most versions of this song -- this piece is also just plain fun. This song has drive to put bluegrass to shame; when I was transcribing it, I had the MIDI metronome set to 180 (120-140 is about typical for the stuff I know) and it still sounded slow. It is more a banjo than a guitar piece, I think, but I haven't managed to find a way to play it in any key except G on the banjo, and that's way too low. (I sometimes play it capoed to B, but I don't think that would make me too popular with fiddlers.) So I've shifted it to guitar to play it in a reasonable key.

I learned this off a recording by Lisa Null and Bill Shute, The Feathered Maiden and Other Ballads -- a rather mixed bag of stuff, but with several gems such as this song plus nice (if over-Anglicised) versions of Lizie Wan and Bonnie Susie Cleland, which are among my favorite ballads. I haven't heard the song "done bluegrass," but the time signature and drive say that it should work well in that format.

Don't ask me what the words in the first chorus line mean; I just took them down as phonetically as I could.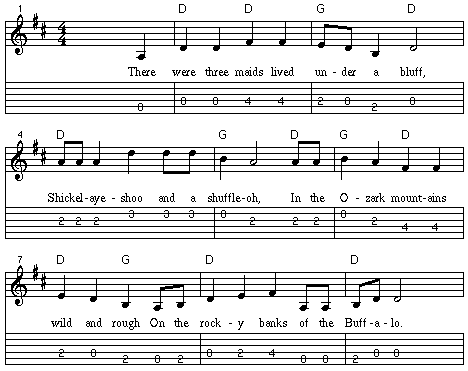 Complete Lyrics:
There were three maids lived under a bluff,
Shickel-aye-shoo and a shuffle-oh
In the Ozark mountains wild and rough
On the rocky banks of the Buffalo.
One day a wild man came along,
And he was mighty fierce and strong.
He courted them the whole day long,
And on his pipes he played this song.
He said to the youngest, "Won't you be my wife?
Or I'll take your hide and I'll take your life."
"Before I'd be a wild man's wife,
I'd lose my hide and I'd lose my life!"
He took her hide and he let her go,
And she danced all night on the heel and toe.
He said to the second, "Won't you be my bride
Or I'll take your hair and I'll take your hide!"
"Before I'd be a wild man's bride
I'd lose my hair and I'd lose my hide!"
He took her hair and turned her loose
And she looked just like a new plucked goose.
He said to the oldest, "Won't you be my squaw?
Or I'll take your pelt to my mother in law."
She said, "Now wild man, that cannot be,
I'm a tough old gal and you can't fool me!"
He throwed at her his hunting knife,
But it bounced right back and took his life.
She put the hide back on her kin;
They were twice as pretty and young again.


---
Bibliography
Texts of Child #14 are not especially common, and most are noted in Child or Bronson. The version here has not, to my knowledge, been published. Most versions use Child's title, but there is a version in Lomax's Folk Songs of North America entitled Three Young Ladies," and the Digital Tradition has a text called Bonny Farday."
---
Return to the Remembering the Old Songs page.