Remembering The Old Songs:
THE GIRL I LEFT IN SUNNY TENNESSEE
By Bob Waltz
(Originally published: Inside Bluegrass, February 2001)

We've been having a lot of death and catastrophes in our Old Songs lately. Truly a dreadful way to celebrate Valentine's Day. So we're going to upgrade a little. This month's song is going to be about love and death.

These two topics are, not surprisingly, a popular combination in traditional song. A quick Ballad Index search netted 118 songs about love and death. I was just a matter of deciding which one to use.

I was surprised at how few of those songs met certain minimum requirements: To go in this column, songs must be American, and as far as I'm concerned, they have to be good, too. That killed off a high number of maudlin ballads. This may be maudlin, too, but it's a great song

According to Kinney Rorrer's book Rambling Blues: The Life & Songs of Charlie Poole, this was written in 1899 by Harry Braisted and Stanley Carter. It doesn't seem to have gathered much attention -- until Poole recorded it in his very first session in 1925. It proceeded to sell 65,000 copies -- and to enter oral tradition.

A lot of Poole's songs never went into tradition. This one is an exception. There is a version in Randolph's Ozark Folksongs, worn down and occasionally changed, but certainly this song.

I'm not sure how I learned this song; I suspect I've combined sources, including Poole, in my head. I'm printing Poole's lyrics (as given by Rorrer), racist references and all, but I've added a final verse I got from Debby McClatchy. There are quite a few points where Poole's lyrics are muddled or require fixing. McClatchy sings "children" for "darkies" in the chorus, for instance.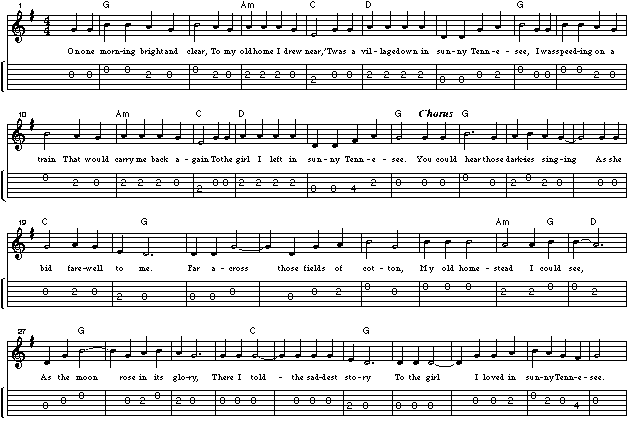 Complete lyrics:
On one morning bright and clear
My old homestead I drew near,
It's a village down in sunny Tennessee.
I was speeding on a train
That would carry me back again
To that girl I left in sunny Tennessee.
Chorus:
You could hear those darkies singing
As she bid farewell to me.
Far across those fields of cotton,
My old homestead I could see.
As the moon rose in its glory,
There I told the saddest story
To the girl I loved in sunny Tennessee.
It has been but quite a few years
Since I kissed away her tears,
As I left her at my dear old mother's side.
And each day we've been apart,
She's grown closer to my heart
As the night I asked of her to be my bride.
As the train run in at last
Those familiar scenes I passed,
When I kissed my mother at the station door.
When the crowd gathered round,
Tears on every face I found,
But I missed the one that I was looking for.
As I whispered, "Mother, dear,
Where is Mary? She's not here, "
All the world seemed lonely, sadness came to me.
She just pointed to a spot In the little churchyard lot
Where my sweetheart sleeps in sunny Tennessee.
It was spring, I remember well,
When young Tommy slipped and fell
Down into the icy Cherokee
Mary jumped in and saved the lad,
But her heart gave all it had,
And now she sleeps in sunny Tennessee.
---
Return to the Remembering the Old Songs page.