Remembering The Old Songs:
SWANNANOA TUNNEL
by Lyle Lofgren
(Originally published: Inside Bluegrass, January 2006)

Here's a useful term you might not know: mondegreen. A mondegreen is a word or phrase that you hear but misconstrue into a completely different and peculiar meaning. An example is Jimi Hendrix's psychedelic
...excuse me while I kiss the sky
mis-heard as the homoerotic
...kiss this guy.

Another famous one is from the gospel song, There's A Light Lit Up in Galilee: the consecrated cross-eyed bear.

"Mondegreen" was coined by a writer named Sylvia Wright, in a 1954 Harper's article. She explained that, as a child, she loved to hear The Bonny Earl of Murray (Child #181) because of the romantic verse:

Ye Highlands and ye Lawlands,
Oh where have ye been?
They have slayed the Earl of Murray
And the Lady Mondegreen.

It was only after she grew up that she realized the last line is And they laid him on the green.

Cecil Sharp (1859-1924) was an Englishman who became interested in Morris Dancing, then in folk music. He decided to collect American versions of British folksongs, and came to America with a younger protege, Maud Karpeles (1885-1976). Although the resulting book was titled English Folk Songs from the Southern Appalachians, it included some, such as this one, that originated in America.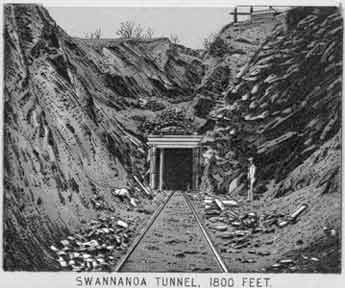 Sharp and Karpeles collected Swannanoa Tunnel in North Carolina in 1916, and the mondegreen problem is especially severe if you can only hear a song once. Without a recording machine, they had to transcribe the words and tunes while people were singing them, and the North Carolina accents misled them badly on this song: "Tunnel" became "town-o" and "hoot owl" was transcribed as "hoodow."
The song is a variant of the tunnel-oriented work song usually known as "Nine Pound Hammer." We don't know where it might have originated, as the song is widespread in the south, even in Mississippi where there are few tunnels. This version, from North Carolina, is at least localized and datable: Western North Carolina Railroad's Swannanoa Tunnel was the longest (1800 feet) of 7 hand-dug tunnels through the Blue Ridge mountains to Asheville. The project, completed in 1879, took 20 years and cost at least 300 lives.
Bascom Lamar Lunsford (1882-1973), an Asheville attorney and banjo-picker, knew the song, and, many years after Sharp and Karpeles, sang it clearly for a recording (reissued on Smithsonian-Folkways CD 40082). The liner notes even transcribe the words (a rarity these days). We're publishing them here as a public service to save American Studies academics the trouble of searching for hoodow myths and motifs.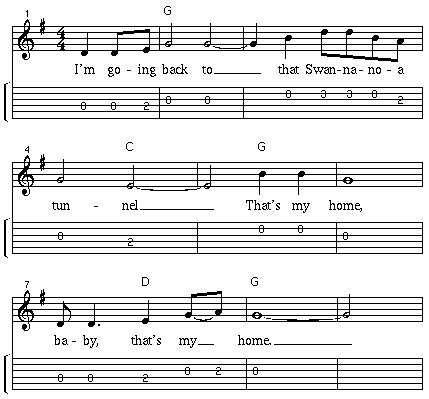 1. I'm going back to that Swannanoa Tunnel,
That's my home, baby, that's my home.
2. Asheville Junction, Swannanoa Tunnel,
All caved in, baby, all caved in.
3. Last December, I remember,
The wind blowed cold, baby, the wind blowed cold.
4. When you hear my watchdog howling, /Somebody around, (etc.).
5. When you hear that hoot owl squalling, /Somebody dying, (etc.).
6. Hammer falling from my shoulder /All day long, (etc.).
7. Ain't no hammer in this mountain /Outrings mine, (etc.).
8. This old hammer, it killed John Henry, /It didn't kill me, (etc.).
9. Riley Gardner, he killed my partner, /He couldn't kill me, (etc.).
10; Riley Rambler, he killed Jack Ambler, /He didn't kill me, (etc.).
11. This old hammer rings like silver, /Shines like gold, (etc.).
12. Take this hammer, throw it in the river, /It rings right on, baby, it shines right on.
13. Some of these days I'll see that woman, /Well that's no dream, (etc.).
---
Return to the Remembering the Old Songs page.