CORPORATE RAIDER ATTACKS LAK-O-TONE
(For Immediate Release)
CORPORATE RAIDER
KARL ICOULD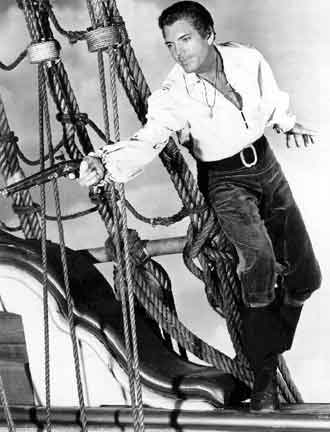 Karl Icould, noted corporate raider, announced recently that he is mounting a proxy battle to gain control of Lak-O-Tone Corporation.
"The Lak-O-Tone Board of Directors has been terribly remiss in their management of the company," he said in his press release, "particularly regarding their actions, or should I say, inactions in maximizing stockholder value. It's time to clean house and get the bounders out of there. The stock is selling way below book value. As owner of 5% of the company stock, I demand a seat on the board."

PADDY D'FWAHGRAH
EXAMINES THE BOOKS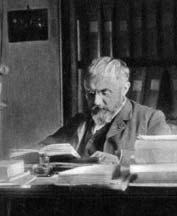 Board chairman Jacobus Pike IV responds to Icould's attack. "What he says is ridiculous," he says. "It's true that the company has made some serious mistakes in its judgement of musical talent, particularly in our Old Time Music catalog. But board membership can only be changed at the annual meeting, and our by-laws state that the annual meeting is only held every 5 years, unless nothing comes up."
"Also, that rotten scoundrel is lying. The stock is not selling below book value. Just to make sure, we hired an expert, Padraic D'Fwahgrah, to examine the books."
Mr. Fwahgrah's report: "I examined the Lak-O-Tone books in detail, in accordance with well-accepted counting standards. By my count, they have over 200 books. Although I was amused by some of the titles, in general it is a mediocre collection. I wouldn't pay more than 100 bucks for the whole batch, even including a rare edition of Tom Swift and His Electric Searchlight, by Victor Appleton."

KENT BIRDLEY
IN THE STOCKROOM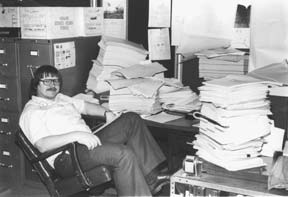 Chairman Pike called an emergency board meeting last week to discuss the crisis. Someone suggested that all Icould wants is some Greenmail, and maybe we can pacify him with CDs from the extensive Lak-O-Tone catalog. But an internet search revealed that, when he's in the throes of Takeover Fever, Karl listens only to Rossini's William Tell Overture, which unfortunately is not in the catalog, nor is it in the repertoire of any of the Lak-O-Tone artists.
Just when things looked the bleakest, though, Kent Birdley, stockroom manager, reported to the board that there is nothing to worry about. "Icould may think he has 5% of the stock, but he's nowhere close to that. And if he wants to buy more, we can supply more, as long as we don't run out of toner."

---
RETURN TO BRANDY SNIFTER HOME PAGE