Remembering the Old Songs:
BABES IN THE WOODS [Laws Q34]
by Lyle Lofgren
(Originally published: Inside Bluegrass, January 2001)

Now that Christmas is over, it's time to turn from innocent babies who escape massacre by emigrating to Egypt to a more common traditional theme: innocent babies who don't make it to adulthood.

In the early 1960s, the late Professor Johannes Reidel taught folk music at the University of Minnesota Music Department. One of his students said that she had an aunt from North Dakota in a nursing home, named Alma Lien, who knew old songs. He sent her to collect what she could on tape, and she came back with the usual material from real folk: An eclectic mix of old ballads, Civil War songs, parlor songs, and sentimental songs of unrequited love and/or early death. These tapes have since been deposited in the Archives of Folksong at the Library of Congress, where they make up part of a small collection of Minnesota traditional music.

Reidel gave us a copy of the tape, and one song caught my ear for a couple of reasons: The tune was ridiculously easy, and the words were so concise that I'd learned the song before I knew what I was doing. Since then, I've sung it for various reasons, including release from boredom while driving and, ironically, as an effective lullaby for young children. It always seemed too simple to bother doing in public, though.

I was reminded of the song by a recent CD: Gems: Lily Mae Ledford Rare Concert and Studio Recordings, 1968-1983 (June Appal 0078). Ledford (1917-1985) led the Coon Creek Girls, one of the first all-female string bands, through the 1940s and 50s at the Renfro Valley Barn Dance in Kentucky. A Sunday version of the show was even broadcast for a few years over a local Minneapolis station. On one concert cut, Ledford sings Babes in the Woods using almost the same tune and words as Mrs. Lien from North Dakota. I wondered about the similarity, since, as far as I know, it was never released on an old record, the usual suspect for cases of widespread song distribution. Then I remembered that, at last year's Chicago Folk Festival, Bob Copper and his family from England (who claim to have sung the same songs in their family for hundreds of years) also used similar tune and words.

Although ignored by the "classical" folk music scholars, it was allegedly composed in England by one Rob Yarrington in 1601, collected as a traditional song by Samuel Pepys and published by Percy in 1765. It was republished as a broadside many times, and has been extensively collected in the Ozarks and Appalachians. The words and tune (when given) are usually close to the Ledford/Lien versions. Only a single version collected in Virginia in 1918 has different words, meter, and tune.

The traditional story behind the song is that an uncle, guardian of the two babes, wants their inheritance, so he hires two rascals to take them into the woods and kill them. One of the thugs kills the other and, too tender-hearted to murder the babies, abandons them to starve to death. Unlike Hansel and Gretel, they didn't leave a trail of bread crumbs, and no one finds them in time.

If the uniformity of tune and words only existed in America, I might think it had been published in one of the parlor songbooks that was popular early in the twentieth century. The Copper version from England makes me think that the tune is consistent just because it's so easy to remember. The version I give here is from Ledford (words) and Lien (tune). I intend to sing it in public someday, but at the rate I'm doing that, you're welcome to beat me to it. Meanwhile, if you have babies handy that need care, it somehow works like magic to put them to sleep.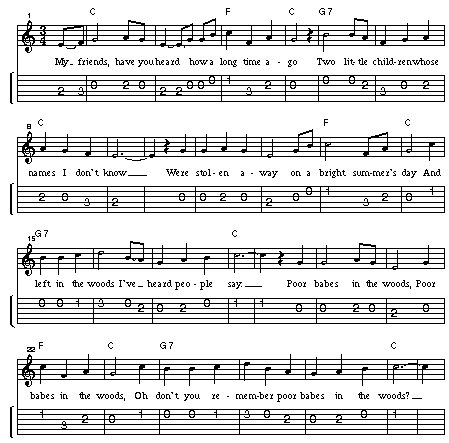 Complete lyrics:
My friends, have you heard, how a long time ago,
Two little children whose names I don't know,
Were stolen away on a bright summer's day,
And left in the woods, I've heard people say.
Chorus:
Poor babes in the woods,
Poor babes in the woods,
Oh don't you remember
Poor babes in the woods.
And when it was night, so sad was their plight,
The sun went down, and the moon gave no light,
They sobbed and they sighed, and they bitterly cried,
Then the poor little things, they laid down and died.
And when they were dead, the robins so red,
Brought strawberry leaves and over them spread,
And all the night long, the branches among,
They mourned as they whistled, and this was their song....
---
One thing both of us can count on is that we'll never get any feedback from these articles, so I was pleasantly surprised when the May, 2001 issue of Inside Bluegrass had a nice letter commenting on this song:
A letter to one and all,
I read my April 2001 issue of Inside Bluegrass and immediately noticed the warm greeting from Jed Malischke. Jed said a MBOTMA member greeted him at the recent Mid-Winter Bash and mentioned the minutes of the Board Meeting is what that person reads first in this magazine. (I read 'em but I won't tell you when.) What I read first is the editorial and secondly, the Old Songs page. I'm always hoping to see a unique rare song I've become attached to. January, 2001, it happened.
Lyle Lofgren wrote all about Babes in the Woods. What a revelation to me now to know the derivation and history of a song I used to play with such gusto and pleasure in the late Sixties and early Seventies.
Babes in the Woods was a very well-known and much-danced-to tune here in East Central Minnesota by one Arnie Hohn and His Concertina Orchestra. I played regularly with Arnie and his wife Ruth in all the local dance halls and lake resorts which had dance floors (whether real or imagined). When we had a Saturday night dance at the Paladium in Brook Park, the folding chair rack at the entrance would be empty before 9:00 p.m. The booths and tables on the dance floor were full. All the extra chairs were interspersed among each available nook and cranny and fully occupied by the early-arriving clientele who were dined and slightly wined and ready to dance.
I said all that to say this. The evening dances were played in sets of three. If we started with a set of waltzes, "Babes in the Woods" was always the second song of the evening. The intent of any decent orchestra leader was to get his hall dancing, and Arnie used to do just exactly that.
We played "BITW" in a wonderfully lilting, danceable style and the crowd loved it -- often filling the dance floor on the second dance. Arnie would comment, more than once, "If they only knew how sad that song is... I wonder if they would still be so eager to dance like that to it. They don't even know the words."
Late in the evening we'd slip it in again, depending on the crowd. Ruth Hohn, who played electric piano and did some vocals, was known to sing the lyrics once in a while. I have her version of the words written out longhand. They are much the same as Lofgren's text. I revised my rhythm guitar style and now I am a flatpicker... but... still see and hear clearly in my mind's eye and my mind's ear, the figure of Arnie and that shiny concertina leaning back, oh so far back, drawing in the air, like the huge breath a small donkey lets in to let out a bray. (With an errant concertina button mashed down, the up beat sounded similar.) In one fell swoop, the entire crowd on the floor was in motion. Hundreds of happy people all starting out at the exact same moment laughing and clapping like crazy for more at the end, calling out, "One more, just like that one!" Babes in the Woods did that for Arnie, Ruth, and me.
I sing BITW now and then at the local jam, pretty nondescriptly I might add. Stop over some time and I'll play you Arnie and Ruth Hohn's version recorded live on New Year's Eve at the Old Ann Lake Resort in Ogilvie, 1973. Hearing is believing.
Thanks to Lyle L. and thanks to you for listening. I hope you heard some of it like I remember.
Tedi Schmoll
Ogilvie, MN
---
[In April, 2009, I was delighted to receive the following e-mail]:
I just read an e-mail forwarded to me by my daughter who is one of my six children who were put to bed each night of their young lives by my singing to them. Poor Babes in the Woods was their favorite.
My mother sang it to me and my siblings also. We grew up with this song. My children were so sad that the Poor Babes had to lie down and die, that I was forced to write another ending for the song.
AND WHEN IT WAS LIGHT
THE SUN SHINE SO BRIGHT
SHONE DOWN THROUGH THE TREES
AND WARMED UP THE LEAVES
THE LITTLE BABES WOKE AND
FOUND THEIR WAY HOME AND
PROMISED THEIR DAD THEY
NEVERMORE WOULD ROAM.
I have a two ft. by 3 ft. wood poster with a movie poster of the William Fox presents picture of the Babes in the Woods sound asleep in the shade of a tree. It was adapted by Bernard Conville and directed by C.M. and S, A. Franklin for Standard Pictures. No date.
The two babes are dressed in clothes reminiscent of the 1800's period. I found this in an antique store in 1975.
Betty Foust
Palmdale, California
[Sure enough, I found a reference to the 1917 movie released by Standard Pictures, titled "Babes in the Woods." It would have been a silent movie, since the first talkie feature film wasn't released until 1927. In 1932, Disney released a short film titled "Babes in the Woods" that was evidently a recasting of the Hansel and Gretel story. -- Lyle]
---
[Ten years ago, when I wrote about this song, I had no idea how widespread it was. In July, 2011, I received the following e-mail from Rosemary Thomas:]
I just found your site while researching a song my mother sang to me as a child in the 1940s. After wading though lots of references to the 16th century ballad, I was delighted to find your discussion of the song. The words are almost identical to my mother's version, and likewise the tune, which she supposedly learned from her mother. Mom told me she (my mother) used to sing it to her younger sister to make her cry because it was so sad. That would have been prior to the 1920s. No family members or ancestors came from anywhere near Minnesota. All from Virginia and Alabama and finally Texas, yet here's the song alive and intact in Texas in 2011.
---
[I now think this might be the most widespread traditional song never collected by scholars. I wonder why not? In November, 2011, Elizabeth Trammel sent me the following reminiscence (edited to combine a couple of e-mails). ]
Was so happy to see your article! My Grandma (born 1923) sang us this song when we were young and her grandmother (born 1874, lived in southern Illinois) sang it to her. The version she sang us was just a little different though. Her first line was,
"Kind friends, did you know, that a long time ago,
two little babes, their names I don't know,"
Instead of "laid down and died and were dead" she inserted "went to sleep" so as to not make us upset. I'm going to see if I can find a recording of this somewhere. She would love it as a Christmas gift, just for the memory :)
---
[On May 21, 2012, J.D. from Wichita, Kansas, wrote:]
I thought I would share this with you.
My Grandmother passed away just recently and I was telling a close friend of mine about this song. She found your entry regarding the song and gave it to me, hence this e-mail.
When I was young, my Grandmother would sing this song to me when I went to bed at her house.
I would beg her to sing it to me. She would balk, as it made me cry. But she would always eventually sing it. I would cry, and then beg her to sing it again.
Such a beautiful song. Thank you for preserving it. The version she sang to me involved no nefarious activity -- just a warning to small children not to wander too far from home. It went like this:
Oh don't you remember a long time ago,
those two little children whose names I don't know
Went off for a walk on a bright Summer's day
And got lost in the woods, so I heard people say.
And when it was night, so sad was their plight
The sun had gone down, and the moon gave no light
They sobbed and they sighed
And they bitterly cried
And the poor little dears, they laid down and died.
And when they were dead, the robin so red
Brought strawberry leaves
And over them spread
Now don't you remember a long time ago
Those two little children whose names I don't know?
Thanks again.
[And thank you, J.D.]
---
[And the information just keeps coming! In August, 2012, Piers Wallace wrote]:
"I just thought that you might like to know that The Babes in the Woods is based on a true story. It happened in Norfolk UK in the woods at Wayland. A wicked uncle murdered his kin. There is a small life sized alabaster memorial in the local museum in Norwich Castle."

Piers includes three links to back up that allegation:
http://www.guardian.co.uk/travel/2011/apr/11/babes-in-the-wood,
http://en.wikipedia.org/wiki/Babes_in_the_Wood, and
http://www.norfolkcoast.co.uk/myths/ml_babesinwood.htm.
I'd run across parts of the story in introductions to the song in written collections, but none of those had any hard information about where it happened. Thanks, Piers.]
---
[In July, 2013, I received the following reminiscence from Christy Cutting]:
My grandmother was born in late 1890s in or near San Bernardino, CA. She had many songs and family stories that she shared with my three sisters and brother over the years that we were lucky enough to live close by. My father was in the US Army and so we moved frequently.
Anyway, I had the tune to BITW going through my head this morning and remembered almost all the words and my Granma's thin, lilting voice singing it. I was so sad to recall the story and wondered if I had forgotten a middle verse that might have explained how the children happened to die. So, I started a search online and found your article and comments.
My Granma's words to BITW are very similar and the tune must be exactly the same. I don't read music so was unable to decide for sure. The meter of the words she used make me think it was close to the tune you showed.
It was always sad to hear the song but I remember wanting Granma to sing it again and again. I don't think I ever thought I'd be lost in the woods and I'm not sure if Granma sang it as a warning to us. Here are the words to the two verses I remember.
Oh my dears, don't you know, a long time ago
There were two little children
Their names I don't know
They were strolling away one bright summers day
Poor babes in the woods
Poor babes in the woods
And when they were dead the robins so red
Took mulberry leaves and over them spread
And all the day long they sang their sad song
Poor babes in the woods
Poor babes in the woods
I can't imagine a dancing tune to this song. What a treat to read your blog.
[Thanks for the information, Christy. This song must have depended on grandmothers for its survival.]
---
[In October, 2013, Jeff M. wrote]:
My wife and I were talking a few weeks ago about passing down the traditions our parents gave to us and "Babes in the Woods" was one of them. My mother sang this song to my siblings and I as a lullaby as her mother did for her. My Grandmother, who was of Polish, Russian heritage, lived in Cheyenne Wells Colorado and that is where my mother was born. I was so fond of the song that I would sing it to my children. I sat down at my computer just now to start typing the words for them and I thought that I would try and l ook them up on line. Sure enough there it was with all the wonderful stories that others had written. It touched my heart to read the words of others that echoed my own. I felt a little uncomfortable about singing to my children that the babies had passed away so I would try to hide the words when I sang it so they couldn't understand them. They had to wait until they were all grown up to know exactly what they were. I didn't have the courage to make any changes to the song but it was nice to see that others did. I will copy all the renditions for my children and have them read this article as well. Thank you so very much for putting this on the internet. Here is how my mother sang the words to me:
Now don't you remember a long time ago,
When two little babies their names I don't know,
Were stolen away on a bright summers day,
and into the woods were carried away.
And when it was night, so sad was their plight,
The sun it went down and the moon gave no light,
and they sobbed and they sighed, and they bitterly died.
Poor babies in the woods, poor babies in the woods.
And when they were dead,
The robins so red,
Brought strawberry leaves and over them spread,
And all the day long they sang them this song,
Poor babies in the woods,
Poor babies in the woods,
Now don't you remember those babies in the woods.
I will make sure that my children hand it down to my grandchildren.
---
Return to the Remembering the Old Songs page.