Remembering the Old Songs:
Charles Guiteau
by Bob Waltz
(Originally published: Inside Bluegrass, July 1997)

Writing this column reminds me a lot of the story of the mule that starved to death between two bales of hay. Or, in this case, over a thousand bales of hay. Because that's how many traditional Appalachian songs are known to us.

The riches of Appalachian music are so vast that there's no rational way to pick and choose subjects for this column. So I use irrational ways. In this case, combining my song from two months ago with Lyle's from last month, and then fouling up.

Two months ago I did a song inspired by Bascom Lamar Lunsford. Last month, Lyle did a song about the death of a Civil War soldier. So this month, I thought I'd do a song from Lunsford about the death of a Civil War soldier (even if it happened fifteen years after the war). Only problem is, I can't figure out how to play the song ("Mister Garfield") on guitar. It's a banjo song, and on banjo it will stay.

So I turned to the "other" Garfield song, "Charles Guiteau" (which turns out also to have been sung by Lunsford).

James A. Garfield was the third consecutive Union general to become President after the Civil War. Elected in 1880, he had been in office for less than four months when he was shot on July 2, 1881. After nearly three months of agony, he died on September 19, 1881.

The murderer was Charles Guiteau, who believed he had been promised a patronage job in the Garfield administration. When the job failed to materialize, Guiteau shot Garfield. He was executed on June 30, 1882.

It is ironic that Garfield, who was an obscure president, had two smashing songs written about his murder. One, the aforementioned song/recitation "Mister Garfield," was specific to the tragedy. "Charles Guiteau," however, is a "touch-up"; the unknown author simply took the earlier ballad "James A. Rogers" (executed in New York in 1858) and "zipped in" the details of the Garfield case. This is no surprise; the same tune carried at least two other murder/confession ballads, "John T. Williams" and "Ewing Brooks."

The song is item E11 in the Laws ballad collection, and Laws lists sixteen versions with references to more. The song has been found in almost every region east of the Mississippi, and several to the west.

The earliest recording seems to be that of Kelly Harrell, made in 1927. I've transcribed that version here, but use the version in my head for the tablature. I'm not sure if the minor variations in the words are just me folk processing the song, or if I've heard another version somewhere.

As you can probably tell, the verse and the chorus use the same tune. Harrell (who recorded the piece with Alfred Steagall on guitar, R. D. Hundley on banjo, and Posey Rorer on fiddle) does not sing the chorus until after the second verse, but many versions sing it after every verse, or even to open the song. These versions are also, perhaps, a bit more coherent. But this one generally suits me.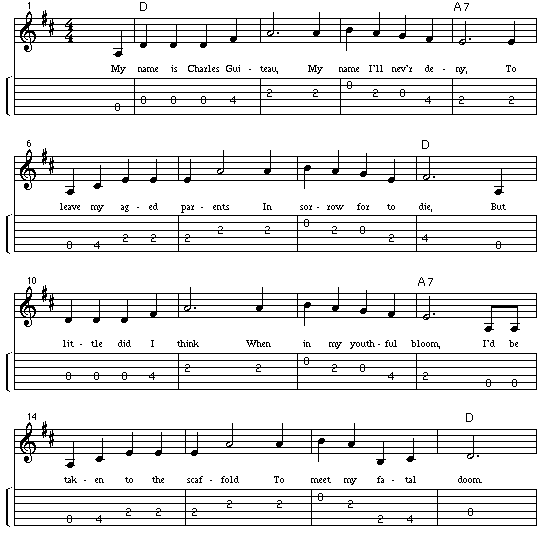 Complete Lyrics:
Come all you tender Christians
Wherever you may be
And likewise pay attention
To these few lines from me.
I was down at the depot
To make my getaway
And Providence being against me,
It proved to be too late.
I tried to play off insane
But found it would not do;
The people all against me,
It proved to make no show.
Judge Cox he passed the sentence,
The clerk he wrote it down,
On the thirtieth day of June
To die I was condemned.
Chorus:
My name is Charles Guiteau,
My name I'll never deny,
To leave my aged parents
To sorrow and to die.
But little did I think
While in my youthful bloom
I'd be carried to the scaffold
To meet my fatal doom.
My sister came in prison
To bid her last farewell.
She threw her arms around me;
She wept most bitterly.
She said, "My loving brother,
Today you must die
For the murder of James A. Garfield
Upon the scaffold high."
And now I mount the scaffold
To bid you all adieu,
The hangman now is waiting,
It's a quarter after two.
The black cap is o'er my face,
No longer can I see,
But when I'm dead and buried,
Dear Lord, remember me.

---
Bibliography
Laws offers the following references to this piece, which is his E11: Randolph/Ark,OK; Arnold/AL; Belden/MO; Brown/NC; Burt/PA; Hubbard/UT; Hudson/MS; Lomax (this version claims to be a transcription of Harrell's recording, but even a casual glance shows that it is not); Morris/FL; Owens/TX. Laws also lists four journal articles (texts from CO, OK, SC, IA) and three Library of Congress recordings (NY, VA, MS).
More recently, two southern versions of the song have been published by McNeil and Combs/Wilgus; there is also a version printed by Friedman.
Laws gives a list of five other murder ballads built on this pattern, and even this list may not be complete. "Charles Guiteau" is, however, by far the most widespread in tradition.
---
Return to the Remembering the Old Songs page.