Remembering the Old Songs:
THE GYPSY DAVEY [Child #200]
by Lyle Lofgren
(Originally published: Inside Bluegrass, October 1999)

It's an old story, even if it's a fantasy of the working classes: women are just naturally more attracted to tough, masculine adventurers than to effete noblemen. D.H. Lawrence mined the fantasy with his novels, most famously Lady Chatterly's Lover. The concept, though, had been around much earlier, such as in this song about the attractive gypsy who sweeps a bored lady off her feet.

The song (Child #200, first collected circa 1720) is one of the most popular of the ballads from the British Isles. Hundreds of versions have been collected in the Americas. As with many of the old songs we write about, this one has been modified a lot as it's traveled around, so recordings exist of several different versions. Personal preference being what it is, there's almost always one version of a ballad that I like lots better than the rest. This song is an exception. I've never heard a boring variant of it. An excellent one is sung by the Carter Family, Black Jack David, re-released on County Records CO-112-CD, Clinch Mountain Treasures. A different version, Gypson Davy by Tip McKinney, was published as an LP by the Missouri Friends of Folk Arts, I'm Old, but I'm Awfully Tough (perhaps out of print?). I occasionally sing either of those, but more often, I revert to the version I learned first: Woody Guthrie's, on a Library of Congress recording, now re-released on Rounder CD-1500, A Treasury of Library of Congress Field Recordings. Woody's dusty voice and sonorous guitar seem particularly well-suited to the simple words he uses. Woody's egalitarian world-view was mainly about income redistribution to the lower classes, but it wasn't out of character for him to revive this old fantasy about the virility of the outcastes.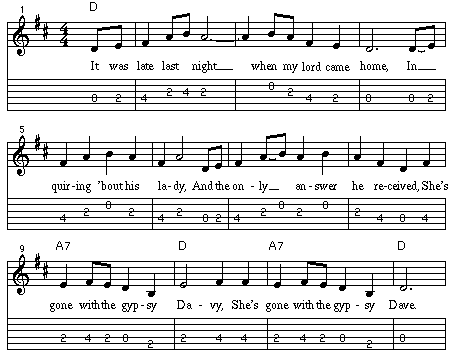 Complete Lyrics:
It was late last night, when my lord come home,
Inquiring about his lady;
And the only answer he received,
"She's gone with the Gypsy Davy,
Gone with the Gypsy Dave."
"Go saddle for me my buckskin horse,
And a hundred dollar saddle,
Point out to me their wagon tracks,
And after them I'll travel,
After them I'll ride."
Well, he had not rode 'til the midnight moon,
Till he saw the campfire gleaming,
And he heard the Gypsy's big guitar,
And the voice of the lady singing
The song of the Gypsy Dave.
"Well, have you forsaken your house and home?
Have you forsaken your baby?
Have you forsaken your husband dear,
To go with the Gypsy Davy,
And sing with the Gypsy Dave?"
"Yes, I've forsaken my house and home,
To go with the Gypsy Davy,
And I'll forsake my husband dear,
But not my blue-eyed baby,
Not my blue-eyed babe."
She laughed to leave her husband dear,
And her butlers and her ladies,
But the tears come a-tricklin' down her cheek
When she thought about her blue-eyed baby,
And thought of her blue-eyed babe.
"Take off, take off the buckskin boots,
They're made of Spanish leather;
And give to me your lily-white hand,
We'll go back home together,
We'll go back home again."
(Repeat previous verse, with "gloves" substituted for "boots")
"No, I won't take off my buckskin gloves,
Made of Spanish leather,
I'll go my way from day to day
And sing with the Gypsy Davy
And sing with the Gypsy Dave."

---
Bibliography
Cataloging all versions of this song is simply impossible; I know of versions from all parts of England, Scotland, Ireland, and the U.S., as well as eastern Canada. Bronson lists 128 tunes; if that's not enough, you're in even worse shape than we are.
---
Return to the Remembering the Old Songs page.