Remembering the Old Songs:
Johnson-Jinkson
by Lyle Lofgren
(Originally published: Inside Bluegrass, August 1996)

The last volume of Francis James Child's The English and Scottish Popular Ballads was published in 1898. The collection of 305 ballads became, for the next generation of scholars, the touchstone of authenticity. If Child had ignored the ballad, so did the scholars. Specifically excluded were "stall ballads" -- printed texts that street performers sold, much as modern street singers sell their cassettes. Child considered these ballads, which were often political satires or news of the latest shipwreck, to be much less interesting than those that were identified by earlier scholars as passed by word of mouth among the common people. By excluding ballads without pedigrees, he missed a number of songs that have just as valid claim to oral tradition as the ones he published. In fact, some of the ballads that received his blessing, particularly the ones about Robin Hood, probably never had significant circulation among the folk. More recent scholarship makes the authenticity arguments of the past look even sillier. It now appears that the folk tradition consists of an ongoing conversation between three sources: the "folk" on their back porches learning music orally; professional performers (pop, music-hall, minstrel show, medicine show, radio); and the professional's songbooks, sheet songs, or recordings.* In the Appalachians, "ballit" refers to a printed song sheet, not to the song that a music scholar would call a "ballad."

Johnson-Jinkson is an example of one of the unjustly ignored songs. According to John Harrington Cox's Folksongs Of The South (Dover 1967 reissue of 1925 Harvard publication), the original seventeenth century printed version, attributed to a Paul Burges, was 102 lines long, had three good guys named Johnson, Jackson, and Dickey as heroes; a dozen robbers as bad guys; and a naked trussed lady by the roadside to distract our heroes' attention. Even in England, the folk process (aided by an unknown number of "professional" musicians) pared the story down to two heroes and six or seven robbers, who appear in stall ballads of the nineteenth century. The song has been collected several places in southeastern America, sometimes with the title "The Three Butchers," but never with all three heroes named. Randolph (Ozark Folksongs) collected it in Arkansas. The version we present here (also probably from Arkansas) shows the great editing ability of the oral process: one hero, three robbers, and one beautiful lady in cahoots with them. It was sung by Troy Cambron (who learned it from his mother) in 1940 in a Visalia, California, FSA (Farm Services Administration) camp, and recorded by Charles Todd and Robert Sonkin for the Library of Congress. If you want to know why scholars were recording Ozarks songs in California, read John Steinbeck's The Grapes of Wrath or Woody Guthrie's Bound for Glory. I find it interesting that the song retains so much old chivalric influence (maids, swords, bold and struggling men) in America; that the irregular meter of the verses requires holding syllables in unusual places; and that the title retains the garbled name of one of the other butchers no longer in the actual song.

Pete Seeger learned this version (changing the words slightly to regularize the cadence), and recorded it on his early album American Ballads (Folkways FA-2319). His sister Peggy recorded the same version on Folksongs and Ballads(Riverside RLP 12-655, no doubt out of print). The professional musicians, with the magic of recording, have put the song in a holding pattern, waiting for the next round, the oral transmission part, which is your responsibility. I'm confident you will do your duty, and the song will survive, if for no other reason than its sensible lesson: be careful about picking up hitchhikers.

* For a more detailed discussion of this relationship, see Jon Pankake's
notes to Smithsonian/Folkways CD SF-40040, The New Lost City
Ramblers Vol. II, 1963-1973: Out Standing in Their Field.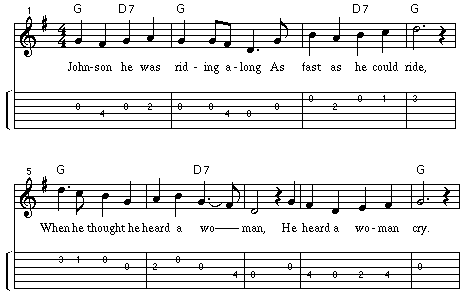 Complete Lyrics:
Johnson he was riding along, as fast as he could ride,
When he thought he heard a woman, he heard a woman cry.
Johnson getting off his horse, and searching the woods all around,
Until he came to a woman with her hair pinned to the ground.
"Woman, dearest woman, who brought you here for to stand?"
Who that brought you here this morning, with your hair pinned to the ground?"
"It were three bold and struggling men, with swords keen in hand,
Who that brought me here this morning, with my hair pinned to the ground."
Johnson being a man of his own, and being a man and bold,
He pulled off his overcoat to hug her from the cold.
Johnson getting on his horse, and the woman getting on behind,
Down this lonesome highway rode, fortunes for to find.
They were riding all along, as fast as they could ride,
She threw her fingers to her ears, and gave three shivering cries.
Out sprung three bold and struggling men, with swords keen in hand,
Who that commanded Johnson, commanded him to stand.
"I'll stop, stand," said Johnson, "I'll stop, stand," says he,
"For I never were in all my life afraid of any three."
Johnson killing two of them, not watching the woman behind,
While he's at the other one, she stabbed him from behind.
The day was free and a market day, and the people all passing by,
Who that saw this awful murder, and saw poor Johnson die.
---
Bibliography (added by Robert Waltz in egregious disregard of Lyle's rights)
Under the title "The Three Butchers (Dixon and Johnson)," this is item L4 in Malcolm Laws's American Ballads from British Broadsides. Laws lists fourteen American and Canadian versions, from Arkansas, Georgia/Florida, Kentucky, Newfoundland, North Carolina, Nova Scotia, Tennessee, Vermont, and West Virginia. He lists the earliest form as a seventeenth century broadside, "The Three Worthy Butchers of the North."
An additional American version, from New York, is found in Cazden, Haufrecht, and Studer's Folk Songs of the Catskills under the title "The Three Jolly Butchers." This text is accompanied by significant notes.
Peter Kennedy, in Folksongs of Britain and Ireland, prints a rather different version ("Three Jolly Sportsmen," #335). Kennedy lists five British recordings and forty-four versions. Nine British sources are listed.
An Ulster version is found in Henry, Huntingdon, and Herrmann's Sam Henry's Songs of the People (H185, "The Three Huntsmen/Wilson, Gilmore, and Johnson). This version, like some of the Canadian texts, has a happy ending. About a dozen collections, plus recordings, are listed.
---
Return to the Remembering the Old Songs page.