Remembering the Old Songs:
"The Lady of Carlisle" [Laws O25]
by Lyle Lofgren
(Originally published: Inside Bluegrass, February 2000)

We're going to take a gallant bow to Courtly (not Courtney) Love in honor of Valentine's Day. The long literary tradition of faint heart vs. fair ladies has highlights that tend to century turns: the German Wolfram von Eschenbach published Parzival at the start of the thirteenth; Spanish Cervantes made fun of the subject in Don Quixote at the start of the seventeenth; and Sir Walter Scott wrote his serious imitations of Scottish ballads at the start of the eighteenth. From the distance of the start of the twenty-first, it's hard to tell if this literary romanticism had much effect on the oral singing tradition, but The Lady of Carlisle is my favorite candidate. I don't know its origin, but it was probably written by someone familiar with some of the above literary sources, as well as the lion legend about Daniel. Its lack of much variation indicates it was spread by printed Broadside sheets. It's been collected in the eastern US, eastern Canada, Scotland, Ireland, and southern England.

I learned the words to this version from a Library of Congress recording (#1578 and 1581A1, Alan & Elizabeth Lomax, 1937) by Clay Walters of Salyersville, Kentucky, who sang it unaccompanied. On the same trip in the same town, the Lomaxes recorded an almost identical version by Basil May (#1587B), who sang it with guitar. The guitar regularized the meter and changed the tune slightly to the version that Mike Seeger sings (The New Lost City Ramblers: The Early Years, 1958-­1962, Smithsonian Folkways CD SF 40036). The score printed here approximates the guitar version rather than the unaccompanied one.

I especially like the way the last verse subverts the expectations created by the story. If a singer confused the characters, it was in an earlier generation, for both of the Salyersville singers sang the same text. Perhaps the bold sea-captain decided that bravery was more important to him than the inspiration to bravery, the first recorded case of pre-coital depression. I don't know, but, like Iris Dement, I prefer to let the mystery be.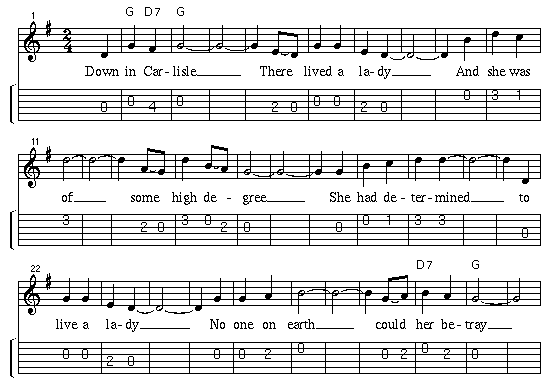 Complete Lyrics:
Down in Carlisle, there lived a lady,
And she was of some high degree;
She had determined to live a lady
No one on earth could her betray.
She wanted to wed a man of honor,
A man of honor and high degree;
At length there came two loving brothers
This fair lady for to see.
One of them was a brave lieutenant,
A man of honor and of war;
And the other one was a bold sea-captain,
Belonged to a ship called Car-en-car.
Then up spoke this fair young lady,
Saying, "I can be but one man's bride;
O come you here in the morning early,
Then this question we'll decide."
She ordered her a coach and horses,
For to be ready at her command;
And those three lovers rode together,
Until they came to the lion's den.
And there they stopped, and there they halted,
While these two brothers stood gazing 'round;
And for the space of one long hour,
She was speechless on the ground.
And when she did herself recover,
She threw her fan in the lion's den,
Saying, "Which of you, to gain this lady,
Will return to me my fan?"
Then up spoke this brave lieutenant,
And he raised his voice both high and clear,
"You know I am a man of honor,
But I would not kill myself for love."
Then up spoke this bold sea-captain,
He raised his voice most threat'ning high;
"I know I am a man of honor,
I will return your fan or die."
Into the lion's den he entered,
The lions looked so fresh and grim;
And there he roved about among them,
Until he returned this lady's fan.
And when she saw her true love a-comin'
And no harm to him was done;
She ran and threw her arms around him,
Saying, "Here is the prize that you have won."
Then up spoke this bold sea-captain,
Just like a man all troubled in mind,
"Down in this lonely grove I'll wander,
No one on earth my body will find."
---
Bibliography
Laws lists seventeen versions of this from tradition -- four from the British Isles, though only two of these have words, and thirteen from America, from Connecticut (Flanders/Olney), Indiana (Brewster), Kentucky (JAF, Lomax, Sharp), Mississippi (Hudson), North Carolina (Brown), Ohio (JAF), Nova Scotia (Creighton, Mackenzie), Vermont (Flanders, Flanders/Berry)
There are many versions in broadsides.
To these add British (Kennedy) and Irish versions (Sam Henry H474).
---
Return to the Remembering the Old Songs page.