Remembering the Old Songs:
WILLIE MOORE
by Lyle Lofgren
(Originally published: Inside Bluegrass, November 2000)

I've been singing this song for about as long as I've been interested in Appalachian music. I learned it from a Burnett & Rutherford recording (1927) reprinted in Harry Smith's LP Anthology of American Folk Music, itself fortunately reprinted as a boxed CD set in 1997 by Smithsonian Folkways.1 Dick Burnett (1887-1977)2 lived in Monticello, Kentucky, played the banjo and sang. He was blinded by a robber's gunshot in 1907, and (like many blind people in the south) was forced to become an itinerant professional musician. According to the notes of the reissue, he composed Man of Constant Sorrow in 1913, which, by itself should be enough to get him into the Country Music Hall of Fame.3 In 1914, he hooked up with a fellow Monticello native, Leonard Rutherford (then a teenager), who played fiddle. They made numerous recordings for Columbia in the 1920s, including this one. The words were from a printed broadside (called a "ballot" in the mountains), and the music is the fine part (the high part) of an old ballad tune that was floating around Kentucky. For both parts of the tune, check out Jean Ritchie's version of Lady Margaret, which, as I recall, was once published on a Riverside LP. I seem to have lost track of my copy, and I have no idea if it's been reissued on a CD. If I live long enough, maybe I'll write out my recollection of her version of Lady Margaret, and then you'll know both halves of the tune.

Is the story true? Certainly it is, in an emotional sense, the way that Romeo and Juliet is true. In this version, though, only Juliet feels strongly enough about the matter to commit suicide. Maybe that makes the song more realistic.

The penultimate verse given here (in parenthesis) is not in the Burnett & Rutherford version, but was collected by Vance Randolph in Arkansas. I often sing it as part of this song because it helps tie the story together. The last verse would not be out of place in a printed "ballot," but it's unusual that a traditional singer would retain it. I always sing it. Use your own judgement.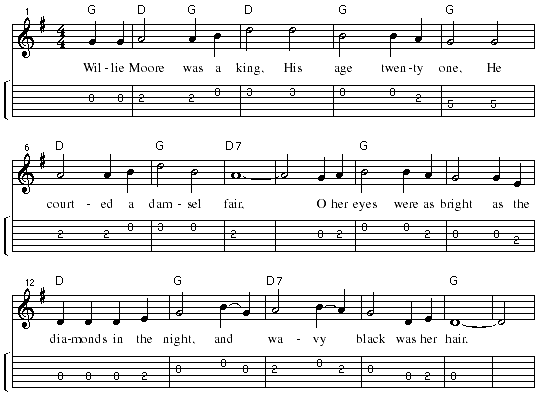 Complete lyrics:
Willie Moore was a king, his age twenty-one,
He courted a damsel fair;
O, her eyes was as bright as the diamonds every night,
And wavy black was her hair.
He courted her both night and day,
'Til to marry they did agree;
But when he came to get her parents consent,
They said it could never be.
She threw herself in Willie Moore's arms,
As oftime had done before;
But little did he think when they parted that night,
Sweet Anna he would see no more.
It was about the tenth of May,
The time I remember well;
That very same night, her body disappeared
In a way no tongue could tell.
Sweet Annie was loved both far and near,
Had friends most all around;
And in a little brook before the cottage door,
The body of sweet Anna was found.
She was taken by her weeping friends,
And carried to her parent's room,
And there she was dressed in a gown of snowy white,
And laid her in a lonely tomb.
Her parents now are left all alone,
One mourns while the other one weeps;
And in a grassy mound before the cottage door,
The body of sweet Anna still sleeps.
[Willie Moore never spoke that anyone heard,
And at length from his friends did part,
And the last heard from him, he'd gone to Montreal,
Where he died of a broken heart.]
This song was composed in the flowery West
By a man you may never have seen;
O, I'll tell you his name, but it is not in full,
His initials are J.R.D.4
---
Impertinent editorial footnotes (added by Bob Waltz):
1 Also available on Document Records DOCD-8025, The Complete Works of Burnett & Rutherford. As this record contains their wonderful hit recording of Lost John, I highly recommend it.
2 Charles K. Wolfe gives Burnett's dates as 1883-c. 1975.
3 But just to show you how much such a claim means, Emry Arthur also claimed to have written the song. And there are several versions from tradition.
4 Other authorities give the initials as "J. R. G." It's almost impossible to tell the final letter from the recording.
---
Return to the Remembering the Old Songs page.