Remembering the Old Songs:
"Little Yellow Dog" (Edward: Child #13)
by Lyle Lofgren
(Originally published: Inside Bluegrass, February 1998)

There are at least four old British/Scottish ballads still floating around the U.S. that are about sibling rivalry. The Twa Brothers is about a boy murdering his brother who doesn't want to play ball. It can be identified because the dying brother takes a lot of time giving instructions about burial and whom to notify. The Twa Sisters, where a jealous woman drowns her sister, was described in the 1/96 Inside Bluegrass. Surely you remember last month's Lizie Wan, about a man who murdered his sister as the logical conclusion of an incestual relationship. The fourth of them is this month's selection, Edward (Child #13). I decided we should get this family stuff out of our system, before we take the "fun" out of "dysfunctional."

Edward has been studied more extensively than any of the other old ballads. It was popular with the scholars because they thought it must be the oldest English ballad, even though there was no reason for choosing it over other contenders. Its first written record (1765) is no older than many others. It also occurs in Scandinavia, but Lady Isabel and the Elf Knight (11/96 Inside Bluegrass) and The Jew's Garden (12/97 Inside Bluegrass) appear in many more European languages. Edward does have an ancient "feel" to it, because of the way the story is told completely in mother/son dialog. Fratricide is as old as Cain and Abel, but that doesn't prove that the song itself is old. The scholars who grew up in the Victorian age, I think, assumed the ballad was old because the motive for the murder (incest with a sister, again) is stated only indirectly by reference to the despoiling of a young sprout that might have grown into a tree. The theory was that it must have taken the folk a lot of generations to hide the motive from impressionable youngsters. If you're interested in more of these theories, as well as some hilarious stupid arguments that have taken place among scholars of the past, try to find D.K. Wilgus's Anglo-American Folksong Scholarship Since 1898 (Rutgers University Press, 1959) in a library or used bookstore. I'm not lending out my copy.

This version was recorded from Charles Ingenthron of Walnut Shade, Missouri in 1941, and published by the Library of Congress Archive of Folk Song on their LP album L-12 (available in cassette, perhaps reissued by Rounder?). When I sing it, I add a unison fiddle to the originally unaccompanied song, and I don't pay nearly as much attention to strict rhythm as the notation implies. I play a tag line (i.e., the last line) over again between verses. If you don't do fiddle, try singing it freely with a dulcimer or racing banjo accompaniment. I used to think that a guitar would force the rhythm too much, but I used one to find the chords, and it sounded pretty good. If the song has survived all these generations, it can probably survive even a full stringband treatment.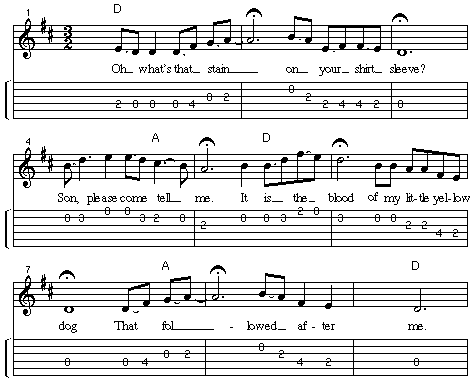 Complete Lyrics:
Oh, what's that stain on your shirtsleeve?
Son, please come tell me."
"It is the blood of my little yellow dog
That followed after me."
"It is too pale for your little yellow dog.
Son, please come tell me."
"It is the blood of my little yellow horse
That I rode to town today."
"It is too pale for your little yellow horse.
Son, please come tell me."
"It is the blood of my own brother dear,
That rode by the side of me."
"Oh, what did you fall out about?
Son, please come tell me."
"We fell out about a sprout
That might have made a tree."
"Oh, what will you do when your father comes home?
Son, please come tell me."
I'll step on board of yandro ship
And sail across the sea."
"Oh, what will you do with Katy dear?
Son, please come tell me."
"I'll take her on board of yandro ship
To bear me company."
"Oh when will you come back, my dear?
Son, please come tell me."
"When the sun rises, never to set,
And you know, that'll never be."
---
Editor's Notes: If you can find it, I'd strongly recommend learning this piece from the LC recording. You'll notice all the fermatas in the score. This shows its complex variation. Lyle originally transcribed the piece in 4/4 time. Bertrand Bronson, who should know (he examined fully twenty-nine melodies for the piece; Ingenthron's is his 6B), wrote it in a mix of 3/2 and 2/2. After some discussion, this is the compromise Lyle and I came up with. At least you can play it with a consistent accompaniment style in 3!
You'll notice that the final verses of this song closely resemble "Lizie Wan." In some versions they're identical. I leave it to you to decide what that means.
---
Bibliography
There really isn't much need for a bibliography on this piece. For British Isles texts and discussions, see Child (#13). For tunes, the catalog in Bronson's Traditional Tunes of the Child Ballads is almost comprehensive. The song has been found all over Britain and the U.S., and appears in many collections. One should beware of confusing it with Lizie Wan (Child #51); the two share an ending, and it is often difficult to tell which song a fragment belongs with.
Return to the Remembering the Old Songs page.